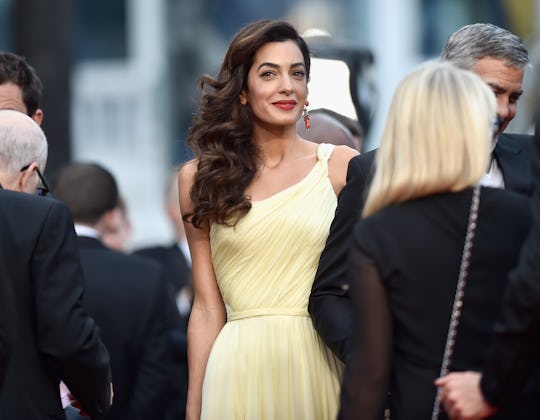 Pascal Le Segretain/Getty Images Entertainment/Getty Images
Amal Clooney's Twins Will Want For Nothing
On the heels of Beyoncé's baby news, you wouldn't think things in Hollywood could possibly get more exciting. Well, think again because George and Amal Clooney are expecting twins! (Romper has reached out to both George and Amal's reps for comment, but has yet to hear back.) These two have been a power couple for some time now and will obviously make amazing parents. But some of you out there may be wondering what Amal Clooney's net worth is, in light of this information? Let's just say these kids will be more than taken care of.
Now, it's worth mentioning that Amal lived a relatively private life up until she caught George Clooney's eye and made this longtime bachelor a married man. So it's a lot more difficult to pinpoint her exact net worth, however, according to RichCelebrities.org, it's estimated to be around a cool $2 million, which is pretty downright impressive, at least from where I'm standing. Then again, it's hard to say for sure how accurate that amount is, especially when Money Magazine reported back in May of 2016 that Amal's net worth was $10 million. While both numbers are more than substantial, I don't have to tell you the two numbers are also significantly different from each other. But either way, it more than proves that these children will want for nothing from the moment they're born.
Meanwhile, George is estimated to have a net worth of $250 million, according to Celebrity Net Worth. This is largely attributed to the massive success he has seen as an actor, screenwriter, and director. Meanwhile, Amal is an attorney, who specializes in international law and human rights, which is an admirable career in and of itself, more than proving to any naysayers that she's much more than just "Mrs. Clooney." She's incredibly smart and driven, so there's no doubt in my mind that regardless of how much they make or the amount they are supposedly "worth," these two are going to make incredible parents and pass on their hard work and ambition.
The duo got married after just seven months of dating and were married in September 2014 during a beautiful Italian ceremony in Venice, Italy. And now it seems they're ready to have their little family double in size and I couldn't be more excited. The news broke, not with a social media image like Queen Bey, but rather in the form of The Talk, host Julie Chen, who revealed on the show that she had confirmed the pregnancy with George back in late January. She also added that the twins are expected to be due in June. Congratulations to the happy couple!