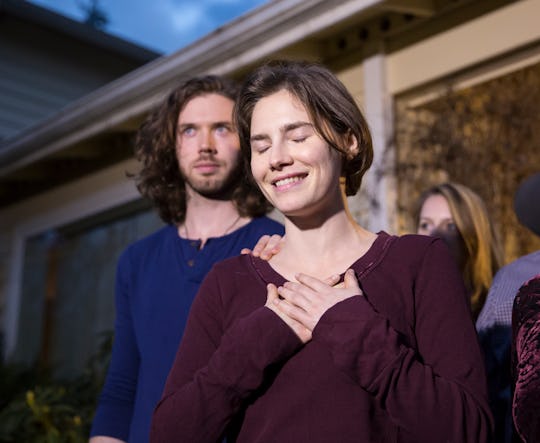 Stephen Brashear/Getty Images News/Getty Images
What Is Amanda Knox's Job Now? She's Writing Away Her Debt
The Amanda Knox case is one of the most infamous murder cases of all time. After being convicted of the murder of her friend and flatmate, Meredith Kercher, in Perugia, Italy, Knox spent years in an Italian prison before she was ultimately acquitted by the Supreme Court of Cassation. On Sept. 30 Netflix will release Amanda Knox, a documentary about Knox and the court case that changed her life, leading Knox to be a topic of conversation once again. One major question surrounding Knox is what is she doing now? Does Amanda Knox have a job and did she ever get a chance to finish school? What has her life been like since she was able to finally come back home?
After returning to Seattle, Knox went back to school at the University of Washington and finished her degree in Creative Writing. She then went on to write her memoir, Waiting to be Heard, which she received a reported $4 million advance, according to the New York Times. However, Today reports that due to the money spent on Knox's legal fees, her family was left in a huge debt. It is certainly something that you don't think of after such a highly-publicized trial.
In 2014, according to the Daily Mail, Knox was hired as a freelance reporter for the West Seattle Herald, a weekly Seattle newspaper, where she wrote about theater. Although at first Knox wrote under a pen name to protect her privacy, once she became comfortable writing she began using her real name. At the time Knox worked from home and had never met her editor in person. Knox continues to write for the paper to this day.
Besides her writing, Knox has become a big advocate for the Innocence Project, a non-profit legal organization that works to exonerate wrongly convicted people, like Knox. In an opinion piece for CNN, Knox discusses attending the Innocence Network Conference for the first time and how important it is to never stop seeking justice. Knox also runs her own blog, which seems to be more of a portfolio of all of her published articles. It seems Knox has thrown herself into her writing, and though you couldn't blame her for potentially losing some respect for the media in the way that they covered her trial, that hasn't deterred her from entering the profession herself.