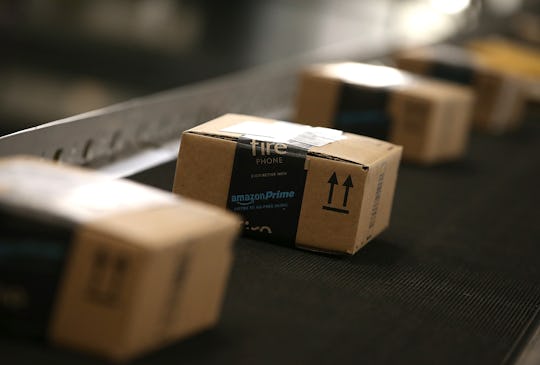 Justin Sullivan/Getty Images News/Getty Images
Everything You Need To Know About Amazon Prime Day 2018
Everyone's talking about it. Amazon Prime Day 2018 is coming up fast, and it's hard to escape talk of one of the biggest days in online retail. But what is Amazon Prime Day, exactly? It's only been around since 2015, and some people may have missed what a big deal it was in years past.
Amazon Prime Day this year starts on Monday, July 16, at 3 p.m. ET, according to GQ. It will run into July 17, making it 36 hours in all and the longest Amazon Prime Day yet, according to CNBC. Ever since the first Amazon Prime Day three years ago, it has expanded more and more. This year, there are the usual deals on the site, plus extra discounts for Prime shoppers who download the app, use Amazon Assistant, or find items using camera search, CNBC reported. There also also special deals involving Whole Foods for this year's Prime Day, according to Supermarket News.
But what exactly is this "retail holiday," as many call it? Amazon Prime Day is really just a one-day, flash sale event, according to The Telegraph. But there are some serious discounts and deals that make it very attractive for people who have Prime to shop on Amazon for Prime Day and which make it one of the biggest online shopping days of the year.
Amazon offers hundreds of thousands of discounts "on everything from gadgets to gift cards" for Amazon Prime Day, according to Thrillist. That outlet reported these deals are "beyond the scope" of the kind of discounts the retail giant has for Black Friday or Cyber Monday, which are several months away from the online retailer's annual sales event.
Amazon only offers these Prime Day deals to members of its subscription service, The Telegraph reported. It's essentially a massive incentive to get Amazon Prime, and to encourage those who don't yet have the service to get it for Prime Day — and, of course, to keep it and keep paying for it long after Prime Day 2018 is over. Notably, Amazon actually increased the price of a Prime membership from $99 to $119 a year in May, which Yahoo! Finance suggested might be why the company also lengthened the hours of the sale this year.
Prime Day started in 2015 as a way to celebrate Amazon's 20th anniversary as a company, Business Insider reported. And last year, Amazon Prime Day was a complete success, as sales grew 60 percent on the previous year. There's no telling what the sales numbers will look like this year, but they'll probably be equally as impressive.
Every year, Prime Day has been made available to more members in more countries outside the United States, Business Insider reported. In 2017, it was extended to Canada, the United Kingdom, Spain, Mexico, Japan, Italy, India, Germany, France, China, Belgium, and Austria. For Prime Day 2018, people in Australia, Singapore, Netherlands, and Luxembourg will be able to participate as well.
A lot of people like to get in on Amazon's Prime Day deals and save some money. But not everyone is celebrating this year. A Spanish union is actually asking shoppers to not shop on Amazon during Prime Day in solidarity with and support for its demands for better working conditions at the company's fulfillment centers over in Spain, where workers will strike, USA Today reported. The strike would take place during the Amazon Prime Day sale.
In an email to Romper, an Amazon spokesperson said, "Amazon is a fair and responsible employer and as such we are committed to dialogue, which is an inseparable part of our culture. We are committed to ensuring a fair cooperation with all our employees, including a positive working conditions and a caring and inclusive environment."
In addition, the spokesperson directed Romper to a press release, issued in Spain earlier in July, about Amazon's efforts to increase its workforce in Spain. The press release can be found on Amazon's website.
By now, it's an annual tradition for Amazon to give its consumers deep discounts one day a year that many celebrate as a "retail holiday," and this year's Prime Day is bigger than ever. Check out Amazon's press release about Prime Day 2018 to find out more about just what Amazon Prime Day is all about this year.
This article has been updated with a response from Amazon.