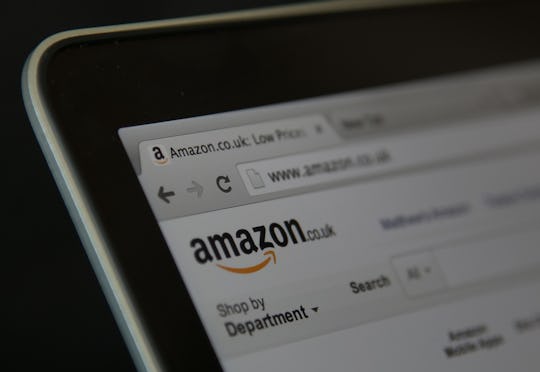 Matt Cardy/Getty Images News/Getty Images
Amazon Spark Merges Shopping & Social Media
Online shoppers, beware: On Tuesday, Amazon launched a new feature, Spark, that makes it easier than ever for users to window shop online. It doesn't exactly add any new products to the online marketplace, though, and the feature isn't available to all users yet, so some confused shoppers have been left wondering: What exactly is Amazon Spark, and what does it do?
According to Tech Crunch, Amazon has now expanded its mobile app to include an Instagram-like feed of pictures posted by Prime users, letting shoppers see Amazon products in action in everyday life. Prime users can post pictures to the app and tag products, and other users can peruse their feeds using certain tags. If they see something they love, they can then purchase it from within Amazon Spark, making spur-of-the-moment shopping easier than ever. (If you're thinking, "This is a dangerous little game," then you are very correct.)
At the moment, Amazon Spark is only available on Apple's iOS operating system, and it can only be accessed by Prime members shopping in the United States. However, if the feature grows popular, it's likely to spread to other platforms and users as well, so don't be too disappointed if you're a Canadian, Android-using shopper.
If you're one of the lucky iPhone users who also has Amazon Prime, you can access Spark now by entering Amazon's mobile app, clicking the drop-down menu in the top left corner, and selecting "Programs and Features." From there, select "Amazon Spark" and pick five or more categories that interest you (such as "Kids & Parenting," "Babies," "Adventure Travel," or "Camping").
Once you've selected interests, you'll be presented with a feed full of interesting photos. Items available on Amazon are tagged, so viewers can shop instantly from within the app if they see a product they like. Users can also leave comments and "smiles" (similar to Facebook and Instagram's "likes") on pictures, opening up a conversation between shoppers.
"We created Spark to allow customers to discover - and shop - stories and ideas from a community that likes what they like," an Amazon spokeswoman told Reuters on Wednesday. And by merging both social media and shopping in a simple app, Amazon may just succeed at doing that.
It's a feature that, if successful, should help those frequently frustrated by online shopping discover more products more easily. Many social media users have already compared Spark to Pinterest and Instagram, so if you're obsessed with those apps, you'll probably want to take a peek at Amazon Spark. Just make sure that your credit card is ready for this new social media platform.