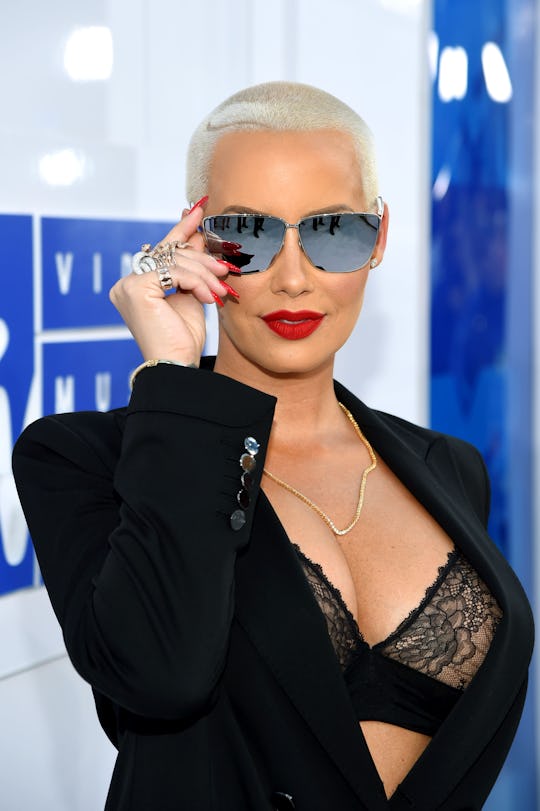 Larry Busacca/Getty
What Is Amber Rose's Net Worth? The 'DWTS' Contestant Is Doing Well For Herself
Amber Rose is continuing her quest to world domination this time as a contestant on Dancing With the Stars. While the model and pillar of female empowerment first rose to fame as the girlfriend of Kanye West, she's worked hard in the following years to distance herself from the label of "rapper girlfriend," and has only gotten more famous and more influential. Now single, Amber has become a cultural entity in her own right, and has been doing extremely well for herself. What is Amber Rose's net worth, these days? Let's just say she's not hurting for anything.
According to the site Go Net Worth (whose reliability cannot be 100 percent verified), Amber is worth an enviable $5 million. Hollywood Take reported that Amber was awarded a cool $1 million in her divorce settlement with Wiz Khalifa, but this is far from her only source of income. Her emoji app, MuvaMoji made a huge splash when it first launched, and is rumored to have netted the newfound mogul $4 million. It also reportedly made $2 million on it's opening day, a cut of which also went to Amber. If you need any more proof that she's living the high life, just take a look at her recently purchased $4 million mansion.
Amber's income comes not just from her emoji app, but also from club appearances, Instagram endorsements, and her book, How to be a Bad Bitch which was published by Simon & Schuster in 2015. Amber has also positioned herself as a major feminist voice, even hosting her own annual Slut Walk, a protest that started in 2011 after a Canadian police officer remarked that women should not dress like sluts in order to avoid sexual assault following several rapes at York University. Amber is is a perfect voice to headline this kind of event, having been very publicly slut shamed by both of her famous rapper exes. A former stripper, Amber has never voiced regret for that time in her life. In an interview with GQ she asserted, "Best f—ing time of my life... I'm not going to say young girls should go be dancers. But that was my journey, and I don't regret it."
Got to love a woman who is strong in her convictions and past. Who knows how far she'll make it in this competition, but she'll continue to be a force for good no matter what the platform.