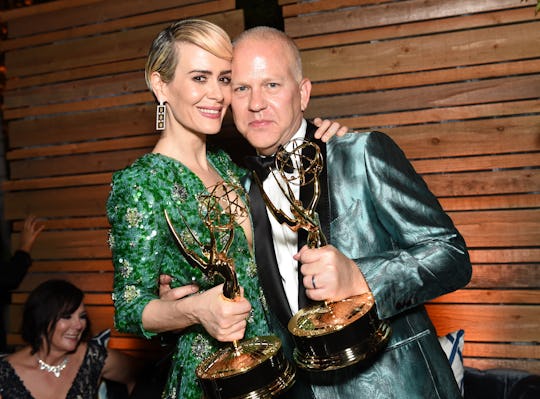 Emma McIntyre/Getty Images Entertainment/Getty Images
What Is 'American Horror Story: Roanoke' Season 6's Twist? It Will Shock Fans
Before American Horror Story Season 6 aired, fans were in the dark about what to expect from the coming season. Now that that episodes have begun to air...fans are pretty much still in the dark. So far AHS: Roanoke seems to be a haunted house story in the vein of Season 1 with some added creepy pilgrims, but all is not what it seems. Series creators Ryan Murphy and Brad Falchuk spoke with Entertainment Weekly about the huge twist in store for the show; it's something that will change everything. But what is American Horror Story: Roanoke Season 6's twist?
While Murphy and Falchuk didn't lay out just what the twist will be, they did tell fans exactly when to expect it. Apparently around Episode 6 the season takes a big turn and upends audience expectations – not that audiences truly know what to expect at this point. "Even though the subject matter has gotten out, it's irrelevant because nobody gets what we're doing," Falchuk said. "No matter what you think it is, it's not that. Then, episode 6 comes and you're like, 'Wait! What happened?'"
Murphy confirmed the big change in the season. "You'll see starting in Episode 6, the show has a huge turn and the thing that you think you're watching is not what you're watching," he said. "It's a hat on a hat on a hat on a hat that we've had to protect."
Cast members of the season have mentioned the twist in interviews, too, with big promises of just how wild it will be. Sarah Paulson told Variety that though she hadn't even begun filming the season's big twist, she knew it was coming – and she knew it would drive fans crazy. "I know something and I can't tell you!" Paulson said. "I have to tease you like that, because you're going to go 'What?!' It's not necessarily connected, but something's happening. Something's happening that people are going to go nuts for. They're going to go nutty bobo nut town."
Cuba Gooding, Jr. said much the same to Vanity Fair when interviewed, comparing the series – and Season 6 in particular – to The Twilight Zone. "When you see this season, you'll realize how to interpret that Twilight Zone idea to an entire other level. When your head goes 'boom' and you've got brains all over the wall, you're going to be like, 'Motherf**king Cuba Gooding Jr.'"
Of course, fans have already been speculating about just what this twist could be. Many people assumed that the season couldn't possibly follow the fake show My Roanoke Nightmare for ten straight episodes, so they knew something was going to happen. A prevailing theory is that the crew filming reenactments on the show within a show will be affected by the otherworldly presence in the house, breaking the fourth wall as they deal with the supernatural phenomenons themselves.
It's possible that that theory is too obvious, particularly because Murphy and Falchuk seem so certain that no one could possibly guess the twist. Every season of the show has had its shocking moments, but from the sounds of it this one is primed to leave them all in the dust.