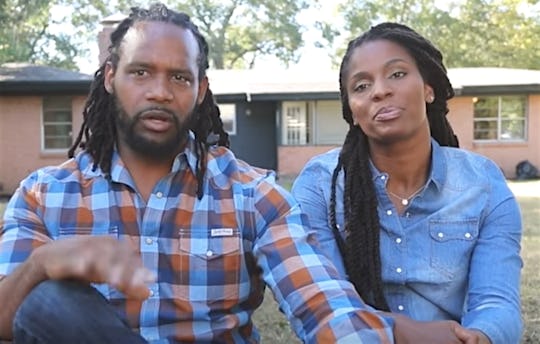 HGTV
Andy Williams From 'Flip Or Flop Fort Worth' Is Taking Over The Texas Realty Game
When it was announced that a new improbably attractive married couple would be taking over a spot on HGTV as another house-flipping team, the first thing audiences wanted to know was who exactly are these people. At least, that's what I wanted to know. And because I really am that nosy, I want to know what Andy Williams' net worth is. The Flip or Flop: Fort Worth star, it turns out, is a pretty formidable force in the Texas real estate game. Still at the beginning of his television career, he probably doesn't have quite the bank account that Chip and Joanna Gaines, for example, are working with. But he's not exactly hurting for money, either.
Speaking of Chip and Joanna Gaines — it was recently announced that this couple's beloved home renovation show, Fixer Upper is officially airing its final season. Perhaps having another Texas-based couple is HGTV's way of replacing them. But the show's format is more clearly based on Flip or Flop, starring the now divorced couple Tarek and Christina El Moussa. Flip or Flop: Fort Worth will follow the same format, with Andy purchasing the properties, and his wife Ashley taking care of the decorating and redesign aspect.
At the moment, Andy Williams has not achieved the level of fame that incites people to dive deep into his personal finances and estimate his net worth. (But give it a little time and I'm sure someone will take the trouble). So that means that I need to make my own guesses here.
There is quite a bit of evidence that Williams is currently killing it. A profile on him in Forbes reports that he has closed over $250,000 in real estate transactions, invested personally in over 100 real estate deals, and launched multiple successful companies including Recon Realty, which focuses on helping military veterans become successful entrepreneurs. That focus is because Williams himself is a Marine Corps veteran, and his wife Ashley is an army veteran.
So while it is obvious that Williams has been very successful, I can't exactly pin down how successful. Because I don't exactly have access to the specifics of any of these transactions, it's hard to say exactly how much Williams is now worth. There's no accurate average salary for a real estate investor, because it really depends on the investor. Right now his net worth could be anywhere between several hundred thousand to several million. What I can say with confidence is that his net worth is about to get bigger.
Name recognition tends to come with increased profits, just as a general rule. If the show is popular, and there's no reason to imagine that it won't be, that means that Williams' business is likely to grow exponentially, in addition to what he would make for appearing on HGTV. For example, the El Moussas have been estimated to be worth around $4 million each, and may have made around $5 million for their televised house flips alone. Chip and Joanna Gaines are estimated to be worth even more. Between their show, their businesses, and their upcoming book deals, the couple is reportedly worth $8 million each. Which is a very healthy chunk of change.
So no, I don't know precisely how much Andy Williams is worth at the moment, but I can tell you that as soon as the show starts to air, he's probably going to be making a whole lot more.
Watch Romper's new video series, Romper's Doula Diaries:
Check out the entire Romper's Doula Diaries series and other videos on Facebook and the Bustle app across Apple TV, Roku, and Amazon Fire TV.