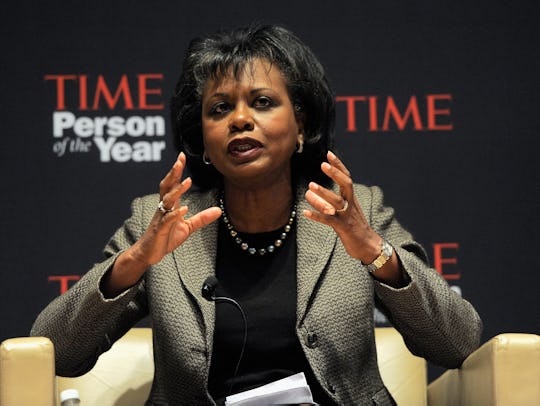 Jemal Countess/Getty Images Entertainment/Getty Images
Three Decades After Anita Hill's Senate Hearings, She's Still Fighting For Justice
by Christina Montoya Fiedler
Recent sexual misconduct allegations against Brett Kavanaugh, President Donald Trump's pick for the United States Supreme Court, are stirring up a bad case of déjà vu. Long before Kavanaugh's accuser, Christine Blasey Ford, there was Anita Hill — the first person to ever accuse a Supreme Court nominee, then Clarence Thomas, of sexual harassment. In the midst of the allegations against Kavanaugh, and the possibility of his accuser testifying in court, you might be wondering — what is Anita Hill doing now?
Well, for starters, she just wrote a powerful op-ed published in The New York Times on the allegations against Kavanaugh and his confirmation hearings. Simply put, as she wrote, "The Senate Judiciary Committee has a chance to do better by the country than it did nearly three decades ago."
In her piece, as ABC News reported, Hill said that the Senate failed to show that they took the sexual harassment claims seriously and implied that no importance would be put on a nominee's personal character during her testimony.
In fact, some of the same members from 1991 are still on the Senate Judiciary Committee today, according to her piece in The New York Times. And there is still no protocol within the committee on how to handle such allegations, as Hill wrote, leaving one to wonder if they learned anything at all from Hill's case or the current #MeToo movement.
At the time of her Capitol Hill testimony, Hill was an established lawyer and law professor at the University of Oklahoma, according to a profile piece written for Rutgers University. It was her testimony that shed light on the lack of women in the government and the Senate, as ABC News reported. It also motivated many to get involved. Sen. Patty Murray (D-Wash.) said in an an official statement released this month:
I was motivated to run for the Senate after watching the truly awful way Anita Hill was treated by an all-male Judiciary Committee interrogating her about the sexual harassment she endured at the hands of now-Justice Clarence Thomas.
In 2016, her story was turned into an HBO movie called Confirmation and Kerry Washington played her part. Later in her career, she taught at the University of California, Berkeley and then at Brandeis University where she currently teaches Social Policy, Law, and Women's, Gender and Sexuality Studies, according to the university's faculty roster.
Outside of the classroom, she's spoken out on numerous television shows including 60 Minutes, Face the Nation, and Meet the Press to talk about gender and race issues. Hill has also authored two books: Speaking Truth to Power and Reimagining Equality: Stories of Gender, Race, and Finding Home.
Today she continues to be a guest speaker at universities, colleges and academic groups, and holds five honorary degrees from colleges around the country, according to her profile on the Brandeis University website.
More recently, Hill appeared on an episode of John Oliver's Last Week Tonight, to talk about workplace sexual harassment, as Vanity Fair reported. In comparing today's political climate with that of Hill's 1991 case, Oliver said that not much has changed. While Hill agreed, according to Vanity Fair, she had this to say: "I'm feeling more optimistic than I was 27 years ago. But even then, I was somewhat optimistic — because I had seen people step up... So I'm hopeful."
In the midst of today's current controversy, you can find her continuing to speak about her Senate Committee testimony and the parallels between her accusations of Thomas and those of Kavanaugh. Most importantly, according to CNN, she thinks the FBI should investigate the accusations against Kavanaugh before moving forward.
Kavanaugh has denied the allegations against him, according to CBS News, and issued a statement on Sept. 17, which read:
This is a completely false allegation. I have never done anything like what the accuser describes — to her or to anyone. Because this never happened, I had no idea who was making this accusation until she identified herself yesterday. I am willing to talk to the Senate Judiciary Committee in any way the committee deems appropriate to refute this false allegation, from 36 years ago, and defend my integrity.
As for what ultimately happened after Hill's allegations and official testimony, Thomas went on to be sworn in to the United States Supreme Court and remains there still, according to The Atlantic. Whether or not Kavanaugh will receive the same outcome is still up for debate.
It's a strange time in American politics, where it seems that anything goes and you have to keep checking the channel to be sure you aren't watching a soap opera. But, it's the bravery of people like Anita Hill that are allowing women, including Kavanaugh's accuser, to come out against harassment and other forms of abuse. Only time will tell how the Kavanaugh allegations will turn out, but one can only hope that the Senate learns from their past mistakes.