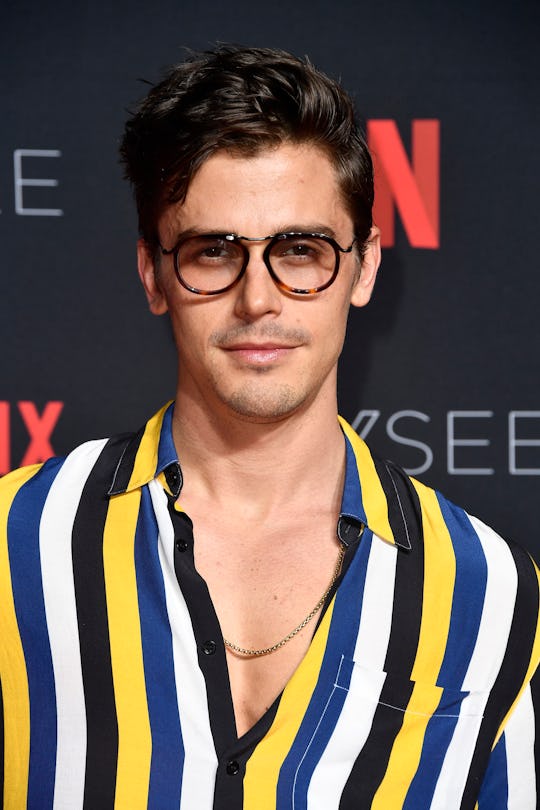 Frazer Harrison/Getty Images Entertainment/Getty Images
'Queer Eye' Food Guru Antoni Porowski Has A Surprising Back Story
Season 2 of Netflix's Queer Eye is set to premiere on Friday, June 15 with an eight-episode drop. The show is a refreshing reboot of Bravo's original series, Queer Eye for the Straight Guy, and along with a shorter name and a new home on Netflix, the series has an all-new cast of experts. Antoni Porowski has taken the place of Ted Allen as the show's food guru, and fan's are curious to know about his background. So what is Antoni Porowski's real job, and how much of a foodie is he really?
As of now, it looks like his official job is that of the food and wine expert on Queer Eye, but he also has a few acting projects coming out this year. He will appear in a James Franco film, The Pretenders, and in a horror movie aptly titled Horror Time. He's been acting since 2008, and has even appeared in several TV shows,including one episode of The Blacklist in 2014. But acting seems to have been Antoni's side gig, because food has been a huge passion for him all his life. And believe it or not, before joining Queer Eye, Antoni was Ted Allen's personal chef.
Now that Antoni is the show's new food guru, he's been getting a lot of flack from critics about his culinary background. In an interview with Entertainment Weekly, he revealed that he has worked in restaurants as a sommelier and as a personal chef, but never went to a formal culinary school. However, he's always gravitated towards food and cooking throughout his life. He was once a busboy at a Polish restaurant and he even taught staffers how to talk about Japanese food in a New York City restaurant. Antoni told the outlet:
"I'm very honest about my food background; I've never tried to pretend like I was a chef. I think that's disrespectful to people who have gone to [the Culinary Institute of America] and different culinary institutes throughout the world. My background is in psychology — that's what my bachelor's degree is from, and my specialization. I studied fine arts and art history; I've studied at a conservatory here in New York as an actor."
So how did he end up on Queer Eye as a food expert? Antoni revealed that he lived across the street from Queer Eye's Ted Allen, and then ended up meeting him and cooking for him. When the reboot of the show was proposed, Allen referred that Antoni take up his role on the show. He told Entertainment Weekly:
"I worked for Ted [Allen] for two or three years, but I never worked in his house thinking, "I'm going to do that thing you did." That was never part of my plan. I had other plans and… it's that whole thing of, life is what happens when you're making plans."
Rather than teaching people how to cook on the show, Antoni says he helps them figure out ways to better serve their families. He noted that although he is not an established chef, it's his passion for food and his desire to learn that keeps him motivated and inspired. In the interview, Antoni explained:
"I think even the greatest chefs are always learning; the ones that I respect, the really good, successful ones never rest on their laurels. It's like in any field where you're passionate about something, there's always something else to learn, and I'm always going to be a student."
So, while he isn't a trained chef, Antoni brings a lot of experience, passion, and self-taught skills to the table. After years of cooking and eating out, I've realized that good food only comes from passionate cooks, and Antoni seems to be one of them.
If you're hoping to catch up on Antoni's culinary advice and expertise you can stream the entire first season of Queer Eye on Netflix right now, before you binge on Season 2, which drops in its entirety on June 18.