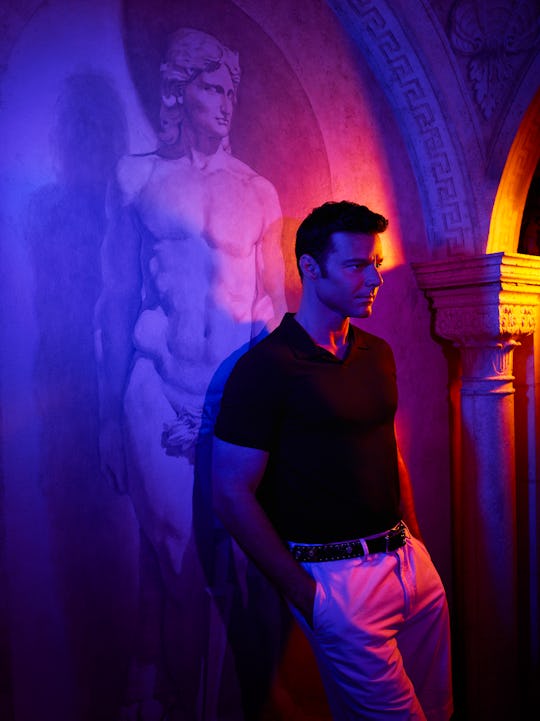 Pari Dukovic/FX
Versace's Death Turned Antonio D'Amico's Life Upside Down
The Versace family has become a legendary fixture in pop culture, not just because of Gianni Versace's murder in 1997, but also due to the fashion empire they created. But what about the other important figure in the late designer's life? What is Versace's boyfriend Antonio D'Amico doing now? Since Versace's tragic death, his partner has moved on with his life, away from the Versace brand and away from Miami where the tragic murder occurred. He was a central figure in the story of the murder and is portrayed by Ricky Martin in Ryan Murphy's new drama, The Assassination of Gianni Versace: American Crime Story. However, D'Amico may not think that this portrayal is completely accurate.
D'Amico and Versace met in the early 1980s, and maintained a relationship for 15 years until D'Amico found the designer shot on the front steps of their Miami mansion. Now D'Amico is a designer in his own right, with his own fashion line and designs, away from the Versace family. According to The Observer, D'Amico recently brought out his own line of sportswear for the golf sector, though his career as a designer started much earlier. Check out one of his fashion shows from 2000 below.
In 1999, two years after Versace's death, D'Amico launched a line of men's wear and women's wear simultaneously alongside business partner Massimo Lotti. Though D'Amico did receive some inheritance from Versace (a reported $30,000 per month pension) he told The New York Times that he did not use this money to start his own line. "Gianni was very generous," he said. "But I'm not using it. I'm using my own money that I saved to start the business." There is not much information about D'Amico's fashion design line, but it is clear that he is still working.
In 2012 Women's Wear Daily reported that D'Amico and Lotti were launching a denim line called Pump which was inspired by the American Wild West. "They are very city jeans but with the idea of country chic," D'Amico described. I don't have high hopes that these jeans are currently available for purchase, because I haven't been able to find any trace of them on the internet. However by all accounts D'Amico is doing perfectly well for himself. In the same article in The Observer mentioned above, D'Amico is committed to a quiet life.
According to the article, D'Amico found love again in 2005, a full eight years after Versace died. The couple apparently live quietly together in the Italian countryside. But this came after Versace's death and the subsequent feuds over the inheritance sent D'Amico into a deep depression. I'm just glad he's found peace at last, though he says he's never forgotten Versace. "Sincerely, after two decades, I will always be connected to Gianni as a person I loved for more than 15 years," D'Amico told The Observer.
As far as the show goes, neither D'Amico nor the Versace family seem to be 100 percent on board. In The Observer article D'Amico claimed "so much has been fictionalized," including his reaction to finding his partner's body and the part in which Versace urges D'Amico not to touch him for fear the paparazzi would take note of their relationship. "We lived like a natural couple, there was never a problem," he explained. "It was the right moment for him to come out in public, but everyone involved in our world knew. He never tried to hide who he was."
As for the Versace family, they have released two statements about the series, which is based on the book Vulgar Favors by Maureen Orth. The first statement reads:
The Versace family has neither authorized nor had any involvement whatsoever in the forthcoming TV series about the death of Mr. Gianni Versace. Since Versace did not authorize the book on which it is partly based nor has it taken part in the writing of the screenplay, this TV series should only be considered as a work of fiction.
In response, FX and 20th Century Fox released their own statement supporting Orth's work, referring to it as "heavily researched and authenticated." The Versace family proceeded to release a second statement shortly thereafter, claiming the book "is full of gossip and speculation."
The Assassination of Gianni Versace premieres Wednesday, Jan. 17 at 10 p.m. EST on FX.
Check out Romper's new video series, Romper's Doula Diaries:
Watch full episodes of Romper's Doula Diaries on Facebook Watch.