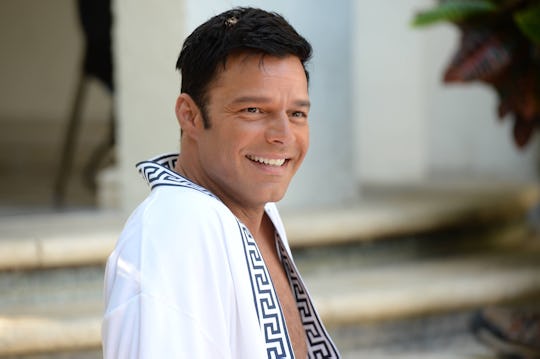 Jeff Daly/FX
Antonio D'Amico's Net Worth Is A Testament To His Impressive Career
FX's The Assassination of Gianni Versace shows Versace and his partner Antonio D'Amico living in the lap of luxury, in an opulent South Beach villa with servants waiting at every corner. But have the real people who inspired the story done as well as their fictionalized counterparts? For example, what is Antonio D'Amico's net worth?
The site Net Worth Post estimated D'Amico's net worth to be around $19 million, though there was no additional information on how that number came to be. But it's not too difficult to track down the details and figure out what contributes to D'Amico's net worth, even if that number remains only an estimation. At the time of Versace's death, D'Amico had been a designer for Istante and Versace Sport, but he told The Observer that after Versace was shot he fell into a deep depression. "I was in a nightmare, I felt nothing and gave no importance to anything," D'Amico said. "The house, the money...because it felt false to have expectations of life."
The provisions for D'Amico in Versace's will may have had some impact on his current supposed net worth, but it's not likely. He reportedly received only a fraction of what was originally left to him. According to The Guardian, D'Amico was supposed to receive a monthly pension of around $30,000 for life and the right to live in any of Versace's properties. However, the houses all technically belonged to the Versace company, which left them under the control of Gianni's siblings Donatella and Santo.
As a result, D'Amico received less money than he was originally allotted and reduced access to the homes. The bulk of the company was left to Donatella's daughter Allegra, with nothing specified for Donatella herself or Santo. D'Amico told The Sun that the money that was left to him was "eaten up by taxes" and he chose not to take advantage of any of the houses, handing them back to the family. "I don't care about material things and I did not want all that negative energy around me," he said, referring to his less than cordial relationship with Donatella.
D'Amico supports himself by staying active in the fashion industry. In 1999, The New York Times reported that D'Amico was starting his own simultaneous lines of men's wear and women's wear with Massimo Lotti, though D'Amico specified that he was not using any of the money left to him by Versace to do so. It's uncertain how long D'Amico's collections were actively being produced, but they would not be his last solo forays into fashion.
In 2012, it was reported by Women's Wear Daily that D'Amico also launched a denim line called Pump with Lotti. The jeans were described by D'Amico as "very city jeans but with the idea of country chic," and WWD elaborated on the denim's metallic studs, copious embroidery, and Western flair. D'Amico's continued presence in fashion surely bolsters his net worth.
More recently, he launched his own line of golf sportswear called Antonio D'Amico Golf, crediting Elton John with encouraging him to get back into designing clothes in his conversation with The Sun. In the same interview, D'Amico described his life as being more humble than the one he shared with Versace, but said that he is happy in his "normal house in the countryside outside Milan."
It's unclear whether the $19 million net worth on Net Worth Post is accurate, especially if D'Amico himself referred to his current lifestyle as "humble." But he seems to be happy with his work and his life, which is especially reassuring knowing how much he suffered after Versace's death. D'Amico may or may not have many millions to his name, but he seems to be doing just fine regardless.
Check out Romper's new video series, Romper's Doula Diaries:
Watch full episodes of Romper's Doula Diaries on Facebook Watch.