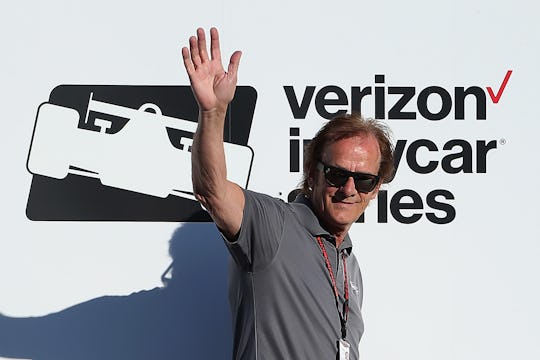 Christian Petersen/Getty Images Sport/Getty Images
Arie's Dad Has An Impressive Net Worth, 'Bachelor' Fans
Fans of The Bachelor have likely learned a lot about Arie Luyendyk Jr. now that his season has begun. His family history, however, might be not be as familiar to viewers. Arie's father, who shares his name, was a famous race car driver long before Arie got behind the wheel. He was pretty successful, but what is Arie Luyendyk Sr.'s net worth?
Luyendyk had a racing career that lasted for decades, starting in the 1970s and continuing until his retirement in 1999 (then his second retirement in 2003). In that time, he won quite a few races, coming out as the champion in the Dutch Formula Ford competition, the European Formula Ford, and the European Super Vee in the 1970s. He tried his hand at the Indianapolis 500 first in 1985, where he came in seventh and earned the title "Rookie of the Year." But he would go on to do even better in the race, winning twice: once in 1990, and again in 1997.
After seeing how well Luyendyk Sr. did in his chosen profession, it comes as no surprise that Celebrity Net Worth speculates that his net worth is around $20 million. That seems like a pretty staggering sum (even just one million sounds pretty good to me!) but it starts to make sense once you break it down.
Celebrity Net Worth attributes Luyendyk's impressive number to his decade-spanning racing career. While earning money from races doesn't seem to be the most reliable source of income because it depends on where you rank in any given race, when it pays off, it pays off. Racing-Reference.com has Luyendyk's statistics available and they yield some pretty impressive funds. His earnings from 11 years involved with the AAA/USAC Champ Car Series earned him over $3 million total, while his 13 years taking part in the CART/CCWS series resulted in him ending up with nearly $6 million ($5,837,546 to be exact) overall.
Seven years participating in the Verizon Indycar series left him with $4,131,193, and he earned money from other races as well. But these weren't lump sums handed off to Luyendyk all at once. Some years he didn't make anything at all from a race; during others, he made a million, or several hundred thousand. Reliability is really not the strong suit of this job, but hey — does it really matter if sometimes you're being handed a cool million dollars? For example, when Luyendyk won the Indy 500 in 1990, Indianapolis Motor Speedway lists him as having earned $1,090,940; when he won again in 1997, he went home with $1,568,150. And that's 1990s money, so adjust for inflation in your head.
During his retirement, Arie's dad worked as a commentator for ABC Sports, and likely was able to negotiate a pretty good fee. Sports Management Degree Guide reported that the average annual salary for a sports announcer was $41,800, but could also go as high as $5 million. Landing anywhere in that very broad range could lead to a pretty comfortable life, and Luyendyk's racing successes could have bumped up his salary a bit.
He was also named an Indy Car race steward for the 2016 season. Jay Frye, the Indy Car president of competition and operation, described the job by saying, "Being a race steward requires thorough knowledge and consistent interpretation of the rules, as well as the ability to enact them with resolve." It isn't easy to track down the salary Luyendyk would have been entitled to as part of the job, but considering his responsibilities and history, it probably wasn't bad.
It seems like Arie's dad was able to support the entire Luyendyk family (and then some) thanks to his victories on the track.
Check out Romper's new video series, Romper's Doula Diaries:
Watch full episodes of Romper's Doula Diaries on Facebook Watch.