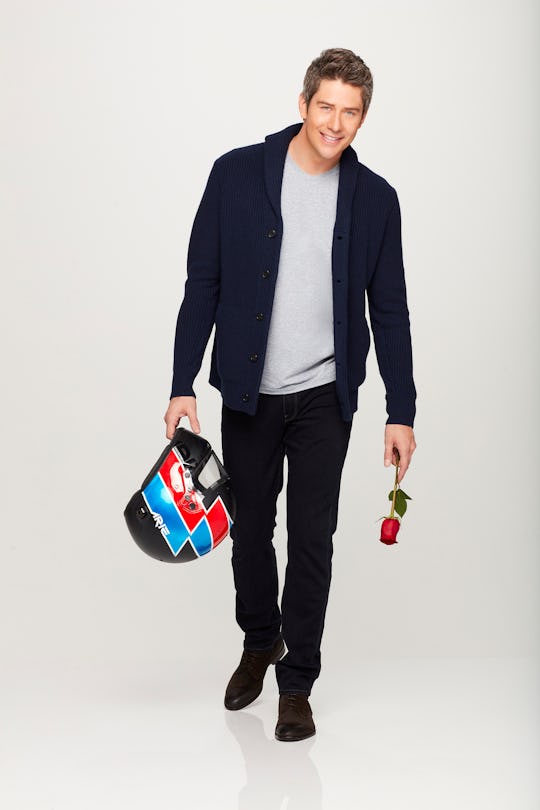 Craig Sjodin/ABC
Arie From 'The Bachelor' Has Experience In Multiple Professions
Well, it's time for another season of The Bachelor, the only television game show in which the end prize is a husband. But maybe everyone should know a little bit more about this prospective husband to find out if he's really husband-material. Like, is he employed? What is Arie Luyendyk Jr.'s job? The 22nd Bachelor appears to be both employed and extremely hard working. After all, it's not everyone who can go from race car driver to just your every day working stiff. And from what I can tell from my research, Arie is doing pretty well for himself. My mom would approve. (Just saying.)
When Arie was first introduced to Bachelor nation around six years ago, he was known only as a race car driver. This makes sense, considering he is the son of the original Arie Luyendyk Sr., himself a legendary race car driver. Driving fast competitively is apparently in the Luyendyk blood. Luyendyk Sr. won the Indianapolis 500 (which I gather is like the Super Bowl of race cars) twice in his illustrious career. As for his son, well his accomplishments on the race track aren't too shabby either. Arie himself has done well in several races and in certain circles is probably more famous for the sport than as a reality show leading man.
According to Arie's personal website, the highlights of his driving career include, "a 2nd, 3rd and 4th in the Indy Lights Championship racking up 4 pole positions, 13 podium finishes and a race win." More importantly than all that (in my personal opinion), he was also voted "Most Popular Driver" four years in a row during his Indy Lights career. That is the kind of man that any girl would want. Knows his way around a vehicle and is well-liked? Well if his engagement with whoever finished first this season of The Bachelor falls through, Arie you know where to find me.
But cars aren't the only thing Arie knows his way around. In 2016, Arie passed the Arizona real estate exam, and is now the world's most handsome real estate agent, working in Scottsdale, Arizona. If Arie is looking for a woman to talk business with, well then he's got plenty of options from the women vying for his heart. When they're not being intentionally absurd, Bachelor contestants' occupations tend to fall into a few major categories. There are always at least a few people who work in real estate. This season is no different.
Among the 29 women on the show, four share a profession with the Bachelor himself. Ashley, a 25-year-old from West Palm Beach and 26-year-old Caroline from Ft. Lauderdale are both fellow real estate agents. They may even have some helpful tips for Arie. Additionally Chelsea, who is 29 and from Portland, Maine, is a real estate executive assistant while Seinne from Newport Beach is a commercial real estate manager. Yes, I know that being a real estate manager is different from selling real estate, but the two professions have to overlap somewhat don't they? I'd kind of like to see Arie pair up with a fellow real estate agent, and the two of them start a spinoff show about selling real estate in Arizona. It would air on HGTV and I would watch the hell out of that.
As of right now, I'm just eagerly awaiting the start of the show so I can see who, exactly, Arie does hit it off with. Even if my dreams of a post-Bachelor real estate spinoff show don't come to fruition. I think I can deal with the disappointment.
Check out Romper's new video series, Romper's Doula Diaries:
Watch full episodes of Romper's Doula Diaries on Facebook Watch.