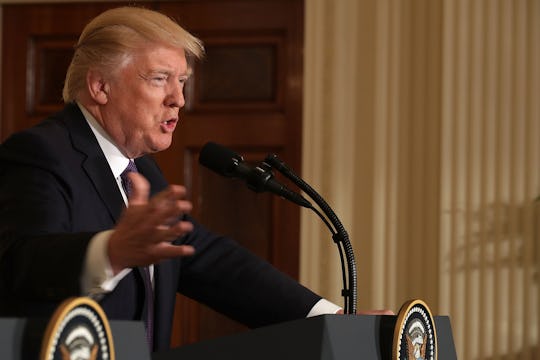 Chip Somodevilla/Getty Images News/Getty Images
Why Does Article 5 Matter To NATO?
Late last month, President Donald Trump headed to Brussels to attend a NATO summit, and to give an address during which he was expected to explicitly state America's commitment to the political alliance. But the president surprised many when he finished his speech without specifically reaffirming the country's support of Article 5. What is Article 5? The provision is known as the collective-defense clause, and states that all NATO member states must come to the aid of another NATO ally if it is attacked. It is an incredibly important aspect of the agreement between all NATO nations, but also specifically holds significance for the United States: the first time it was ever invoked was following the Sept. 11, 2001 terrorist attacks, according to Business Insider.
On Monday though, Politico's Susan B. Glasser reported that the move to avoid explicitly endorsing Article 5 didn't actually have White House approval: multiple sources told Politico that the president made a last-minute decision to ditch the line about Article 5 without telling anyone. According to Glasser, Trump's national security adviser H.R. McMaster, Defense Secretary James Mattis, as well as Secretary of State Rex Tillerson all supported and expected Trump to speak in favor of Article 5, and worked "to make sure it was included in the speech." Yet it was reportedly only when Trump actually delivered his address that his team realized it wasn't what he was supposed to say. A source from Trump's national security team told Politico that "they didn't know it had been removed," and that "it was only upon delivery," that they realized his speech had been altered.
While it's still unclear exactly how reference to the provision came to be left out of the speech — was it a spur-of-the-moment decision by Trump? Was he influenced by other White House advisors to do so? — the impact was significant. According to The Atlantic, Trump did make reference to Article 5 in his speech when he discussed the way "NATO allies responded swiftly and decisively," following 9/11, specifically stating that it was a result of "the Article 5 collective-defense commitment." He also stated, according to Business Insider, that the United States would "never forsake the friends that stood by our side" following the attack. But explicitly stating the United States' commitment to Article 5 has important historical precedence: according to The New York Times, every American president since the treaty was signed in 1949 has "publicly reaffirmed that the United States would come to the aid of a NATO member that came under attack."
Then again, given Trump's history of publicly criticizing NATO, his omission may not exactly be entirely surprising. As a presidential candidate, Trump repeatedly described the alliance as being "obsolete," according to CNN, and argued that the United States was disproportionately supporting other NATO members, whom he claimed were not "paying their fair share" for NATO protection. In April 2016, Trump said "the countries we are defending must pay for the cost of this defense," and that the United States had "no choice" but to "let these countries defend themselves," if they didn't. Three months later, when asked by The New York Times if the United States would be committed to upholding Article 5, Trump said, "Have they fulfilled their obligations to us? If they fulfill their obligations to us, the answer is yes."
Other members of the Trump administration have since argued that the president did in fact reaffirm Article 5 even though he didn't specifically say so. National Security Council spokesperson Michael Anton told Politico that Trump's attendance at the summit was, in itself, a show of support for NATO and Article 5, and said that Trump's "continued effort to secure greater defense commitments from other nations is making [the NATO] alliance stronger." And following the summit, White House Press Secretary Sean Spicer told reporters that the president didn't need to specifically endorse Article 5 because "the entire ceremony was called an Article 5 dedication," according to Business Insider.
Most recently, United Nations Ambassador Nikki Haley came to the president's defense regarding Article 5, according to The Hill. When asked about NATO during an appearance on CNN's "State of the Union" Sunday, Haley said,
Of course we believe in Article 5. I just met with all of my NATO ambassadors yesterday. We said, 'A threat on one of us is a threat on all of us' ... we've never swayed from Article 5.
As for Trump, Haley claimed that, as far as she was concerned, the president was totally committed. She said,
He could if you asked him. I mean, I think if you asked him if he was in favor of Article 5, he would say that yes, he is ... His intent [with the speech] was to make sure that the burden sharing was happening.
But not everyone was convinced. During an appearance on ABC's This Week Sunday, former National Security Advisor Susan Rice said that Trump's decision to not explicitly support Article 5 was a big win for Russia. Rice said,
That is exactly what [Russian President] Vladimir Putin wants. Because Putin's interests, as he actually reaffirmed just on Friday, is to see NATO weakened and ultimately destroyed. And when the United States, the most important player in NATO, casts doubt about our commitment to that vital alliance, it undermines our security. It undermines the security of our closest allies.
Nicholas Burns, former United States ambassador to NATO under President George W. Bush also took Trump to task for his speech. According to Business Insider, Burns said it was "a major mistake" for Trump to not "reaffirm publicly and explicitly" his commitment to Article 5, and added,
I was the US ambassador to NATO on 9/11 and remain grateful for the unstinting support given to America by our European allies and Canada. Trump is not acting like the leader of the West that all US presidents before him have been dating back to Truman.
Given Trump's history of criticizing NATO, the fact that he has yet to actually explicitly voice his support of Article 5 has caused quite a bit of concern. Trump's team, and many of his supporters, may still believe that he didn't need to specifically outline his commitment at the summit in order to uphold Article 5. But his lack of expressed support of NATO hasn't done much at all to ease ongoing fears that the president may consider the United States' support to be conditional — and perhaps that he may not actually intend to continue the country's decades-long commitment to the alliance.