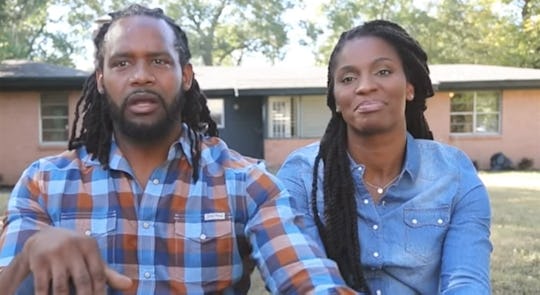 HGTV
Ashley Williams' From 'Flip Or Flop Fort Worth' Is Already Doing Well For Herself
With every new reality star that comes to TV, there also comes a whole list of questions that I have about them. Have they been on other reality shows? Are they really from wherever town that is? How much money do they already have? So it should come as no surprise that I'm already wondering what Ashley Williams' net worth is. The Flip or Flop: Fort Worth star, along with her husband Andy, seem to be doing pretty well at the moment. It's hard to say exactly what her net worth is at the moment, but one could guess it's pretty up there.
Unfortunately for all the desperately curious out there, Ashley Williams has not yet reached the level of fame that inspires some people to do hard-hitting research into her personal finances. That means that there's very little accurate (or even questionable) information about what her actual net worth is. That being said, one could make a few guesses as to her current situation, and even more accurate guesses as to what it will be in the near future, assuming the show is successful. If she and her husband Andy become the next Christina and Tarek el Moussa, for example, they could be looking at a very tidy fortune in the next few years.
At the moment, Ashley works as the design element of the team while Andy buys the properties and renovates them. It's difficult to say what Ashley's income is independent of Andy because it looks like they work together on their real estate projects. Andy is the founder of Recon Realty, a residential development firm targeted toward helping military veterans transition back into civilian life by offering a viable career path in the real estate sector. Andy himself has overseen over $250,000,000 in real estate transactions, according to a profile in Forbes. And the reason the couple wants to focus on veterans is because they are both veterans themselves.
As owners of a successful real estate business, one can assume that the couple's success has translated into a healthy income. However, due to the nature of the real estate development business, there is no one-size-fits-all income level. They could have a net worth in the several hundred thousand or the several million. At this point, it's difficult to say precisely how much money they earn. But one thing that's for sure is that this married couple is in it together — even more so now as cohosts of their new show.
If the show does well, they could be looking at expanded business opportunities in the future, and a lot more cash as a result. Sources report that the original Flip or Flop couple, Christina and Tarek, earned $10,000 per episode of their show. But that was only the start. Their speaking fees (where they talk about the real estate business and flipping houses) ran as high as $40,000 per engagement. This is, of course, in addition to what they earn from the actual sale of a house. These days, they are worth a reported $4 million each.
Other popular HGTV stars, like Drew and Jonathan Scott from Property Brothers or Chip and Joanna Gaines from the popular Fixer Upper also earn huge amounts not just from their actual businesses, but from spin-offs, specials, speaking engagements, and even book deals. The truth is that a little exposure goes a long way towards expanding one's business and profits. From the looks of things, Ashley and Andy Williams are just as charismatic and talented as their HGTV forebears. I have a feeling that they're going to see their whole lifestyles change — for the better.
Watch Romper's new video series, Romper's Doula Diaries:
Check out the entire Romper's Doula Diaries series and other videos on Facebook and the Bustle app across Apple TV, Roku, and Amazon Fire TV.