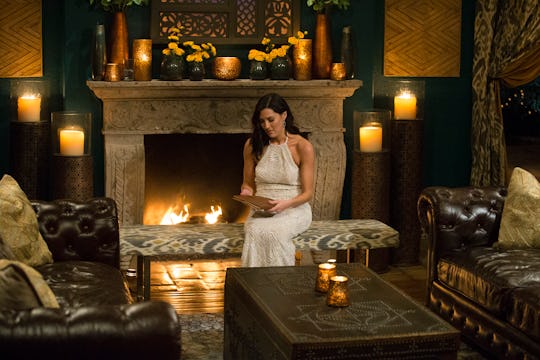 Paul Hebert/ABC
Becca's Net Worth Is An Intriguing Mystery On 'The Bachelorette'
Unlike some of the contestants populating Season 14 of The Bachelorette, the leading lady in question has a job that's easy to comprehend. She doesn't count her cologne obsession as a career or claim her only responsibility is social media. Becca Kufrin is a publicist, so she's likely living a pretty comfortable life on a decent salary. But, what is Becca's net worth on The Bachelorette?
Her official net worth isn't easy to find online, so we can only speculate. The website College Candy reported that her net worth was $120k, while Bio Wikis theorized that it was closer to $200k. Both sites pointed out that her time on The Bachelor and The Bachelorette would have given her finances a major boost, too. Not only would she earn a salary from appearing on TV, but her new fame would make it easier to get sponsorships and partnerships with brands. That could definitely add a few extra coins to Becca's purse!
Becca has worked for the technology public relations agency Skyya for five years. According to the company's site, Expertise named Skyya one of the top eighteen PR firms in Minneapolis, where Becca lives. Described as an "award-winning global PR and strategic communication service for pioneers," Skyya boasts that its "boutique approach" and passionate workforce produce "stellar results." The company seems to be quite successful, which likely helps Becca's net worth as well.
Becca will make some money from The Bachelorette, too. PopSugar revealed that former Bachelorette Emily Maynard made $250k for her trouble, while Us Weekly reported that Ashley Hebert's paycheck was around $30k. Even if Becca's earnings fall somewhere between the two figures, she'll have made a sizable chunk of change in addition to finding the guy of her dreams.
Any spinoffs (like Ben & Lauren: Happily Ever After?) or specials (perhaps a TV wedding is in Becca's future!) would also be financially beneficial, plus the aforementioned Instagram sponsorships. According to Us Weekly, Jade Roper and Tanner Tolbert almost made a cool million just from social media alone. (Maybe it is a career after all?)
Even without that, Becca is probably pretty well-off. Glassdoor reported that the average base salary for a publicist is just over $52k, and that doesn't account for the specifics of Becca's situation. She could very well be making more than that; according to her LinkedIn profile, she is a Senior Account Executive, so she seems to have a fairly high position in the company.
But if all else fails, Becca can always count on the public to have her back. After her painful and very public breakup with Arie during The Bachelor finale, fans flooded Becca's Venmo account with cash so that she could treat herself in the wake of so much heartbreak. They encouraged her to booze it up or invest in some sheet masks — whatever it would take to cheer her up. Ultimately, Becca ended up with $6k from well-meaning viewers.
While Becca was undoubtedly touched by the outpouring of support, she told host Chris Harrison on After the Final Rose, "I love my wine, don't get me wrong, but I don't think I can drink that much." Instead of making it rain in the wine section of Trader Joe's, she decided to donate all of the money to the nonprofit organization Stand Up to Cancer (which Harrison offered to match on ABC's behalf, according to People).
Even though Becca's net worth is still something of a mystery, it's clear she's doing well enough to give away a free six grand to a charity that needs it a lot more. And if everything goes according to plan, she'll be doing even better when her time on The Bachelorette is over.