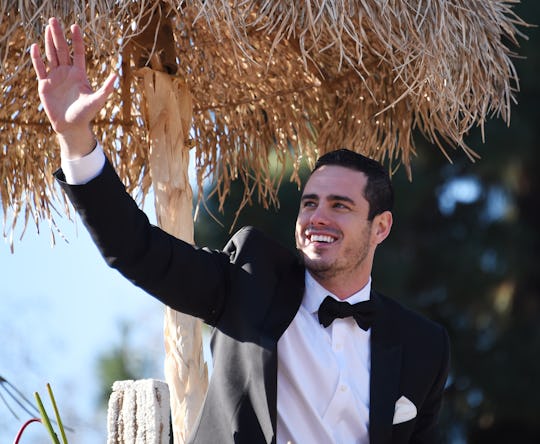 What Is Ben Higgins' Net Worth? The Bachelor Is Doing Well For Himself
The Bachelor is heating up. With fewer and fewer roses being doled out, awkward dates, and even a certain contestant leaving on her own accord (no spoilers), viewers are getting to know more about the hopefuls. But what about the Bachelor himself? Though he's revealed a ton about himself on this season — and when he was a contestant on The Bachelorette — an important question has gone unanswered: What is Ben Higgins' net worth? He's not a millionaire, but he's also not struggling financially.
The numbers vary from $100,000 to $500,000, according to Heavy. Beyond his profession, there are a couple things out there that indicate that his net worth is closer to the former amount. For one, the median income in his home state of Colorado was $61,303 in 2014, according to the Department of Numbers. Second, Higgins is a college graduate. According to the Department Of Labor Statistics, people holding a bachelor's degree brought in an average $1,001 dollars a week in 2014. However, Heavy reported that Higgins is a homeowner, so it is safe to say that he is living pretty comfortably.
But a little more digging reveals a ton about the Bachelor's career. According to Higgins' LinkedIn, he's currently an account manager at Talisys, a Colorado-based company that "deliver[s] the highest levels of reliability and innovation in processing technology," according to the company's website. "As an Account Manager, I act as the liaison between Talisys and our clients, it's my responsibility to see that those clients are maximizing the value of the products and services Talisys provides," Higgins wrote in his profile.
However, the promotion to account manager only came in September. Prior to that, the 27-year-old worked with the company as a business analyst. According to Glassdoor, a business analyst at Talisys brings home anywhere from $59,000 to $78,000 a year. So, that's nothing to sneeze at. Though there isn't any insight on what an account manager's salary is at Higgins' company, a report on 17 software companies showed this career ranges from a $69,371 to $120,538 annual income.
If this whole finding-love-on-TV thing doesn't work out, then at least Higgins doesn't seem to have to worry about job security or his finances, generally..
Image: Robin Beck/AFP/Getty Images