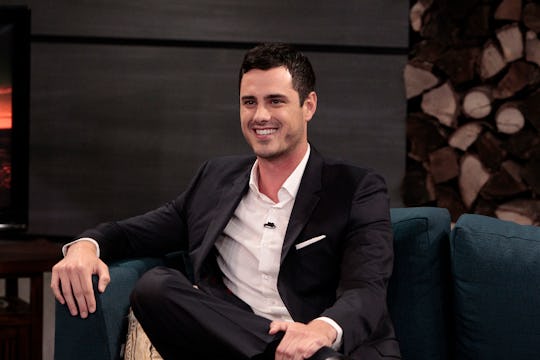 ABC/Rick Rowell
What Is Ben's Tattoo On 'The Bachelor?' He Might Want To Take The Words To Heart
Every week we get to see a little more of Ben Higgins and the women who want to marry him. But since they're in Bahamas this week, viewers got to see Ben without his shirt on. He has a little "boy next door" thing going on, but what is Ben's tattoo all about? While fishing and boating and hanging out on the beach, Higgins showed off his ink, which is actually a Bible verse just above his hip, and proved that he's exactly what we all thought: a down-home kid hoping to find love.
The tattoo is written in cursive font on his left side. According to OK Here's The Situation, the text reads "Commit to the Lord whatever you do, and he will establish your plans." It's from Proverbs 16:3 in the Old Testament. So even Ben Higgins' tattoos are clean cut. His good guy image is so out of control, he almost seems unreal.
It's good to know that Ben isn't too scared to get inked up. Most of the contestants on this show have tattoos. So many, in fact, that ABC has made a big deal about inked Bachelorette contestants in the past. This past summer, host Chris Harrison complained about all the tattoos on the contestants in Bachelor in Paradise. But most of those guys were trainers (and ripped) so it makes complete sense that they'd be showing off their art.
Ben's tattoo is obviously a thoughtful one — even its placement is where he can keep it to himself, should he feel like it. It's a solid tattoo. But with all that in mind, let's just hope Ben isn't hoping for a higher power to give him a sign about what to do with those roses this season.
During Monday's Bahama episode, Ben took all six girls on a group date to go swimming. It was supposed to be chill and relaxed, but the awkwardness of Lauren B. and others pulling him away for alone time had all of the girls freaking out. At one point, Ben got totally frustrated. Higgins said in an interview with the producers, "How do you date this many women you have feelings for and keep everyone happy? Does anyone know?"
No, Ben. It's probably impossible. All of the girls' stress is probably because he is such a nice guy. He's kind, he listens, and looks each one-on-one date in the eye. It's no wonder they all think he's falling madly in love with each of them. He probably thinks he's being nice, but his good intentions might be driving these ladies insane. For right now, it looks like Ben needs to take his tattoo to heart, commit to one of the girls, and stick to it.