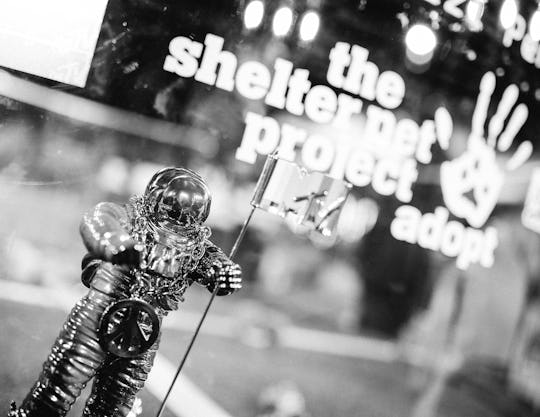 Mike Windle/Getty Images Entertainment/Getty Images
The 2017 VMAs Are Introducing An Important Category
There are some big changes for MTV's Video Music Awards this year. In addition to making all of the award categories gender-neutral, which is huge, there will also be a Best Fight Against The System category at the 2017 VMAs, which is a pretty big deal, given that 2017 has been a year of challenging the status quo. Since 2011, the show has had a Best Video With a Social Message category, though it wasn't given out last year. Luckily, for 2017 the network decided to bring it back to life and changed the name to make things sound a little more urgent and powerful.
The change in wording to "fight against the system" instead of "social justice" really drives the point home that the nominees' messages pack some punch. This year at the MTV Movie & TV Awards, the network also gave out a Best Fight Against The System Award. The film Hidden Figures took home the honor, which was presented by California Rep. Maxine Waters, which was a perfect match. An MTV spokesperson told Vox:
The addition of the 'Best Fight Against the System' category was added to the 2017 MTV VMAs to continue reflecting the audience's passion and activism around social justice issues such as environmental justice, immigration, LGBTQ equality, and racial justice.
Here are the nominees up for the award this year...
John Legend, "Surefire"
Director Cole Wiley told MTV News that the message is supposed to be about "love conquering all," but, given the political climate this year, it was also important to show another side of immigrations. "It was set against a backdrop that is an unfortunate reality in the society that we're in right now, given some of the policies that are being instituted by our government," he said.
Riz Ahmed, Snow Tha Product, Residente, K'naan, "Immigrants (We Get The Job Done)"
Director Tomás Whitmore said that the goal of the video was to reclaim the word "immigrant" and show the pride in being one. He told MTV News, "It took the issue that's happening in current day, the xenophobia and immigrant narrative, and put it within a context of something that has existed throughout time."
Logic, "Black Spiderman"
This song from his album Everybody is all about being proud to be black and challenges the notion that all the famous people in history were, or should have been, white.
Big Sean, "Light"
Lawrence Lamont said that he wrote the song last summer after a handful of black men were killed by police. He called Big Sean to put it together, and then they broadened the scope from police brutality to all racist violence after Donald Trump's travel ban was proposed. Lamont told MTV News, "Who knew 2017 would be what it is? It's important for artists and storytellers to use our platform to tell stories that have things to do with what's happening in today's world, whether it's racism or homophobia or Islamophobia."
Shailene Woodley, Supaman, Drezus, Taboo, and others, "Stand Up/Stand N Rock"
Every cause needs an anthem and this song was it for the #NODAPL protestors in Standing Rock last year. Aside from Woodley, all of the artists on the track are Native Americans. Drezus told Vice News, "There's a lot of natives out there who are super militant, super focused. They're out there on the front lines fighting, man. That's who I wanted to represent and show love to."
Alessia Cara, "Scars To Your Beautiful"
Cara's song is all about body image and self love, which is something everyone can use these days. She told Cosmopolitan, "I wanted all kinds of people —young, old, whatever their situation, whether it's visible scars, non-visible scars — just a bunch of different women, and there are some men in there as well, because it can reach out to guys too."
All of the nominees are worthy of celebration. How can anyone pick just one from this group?