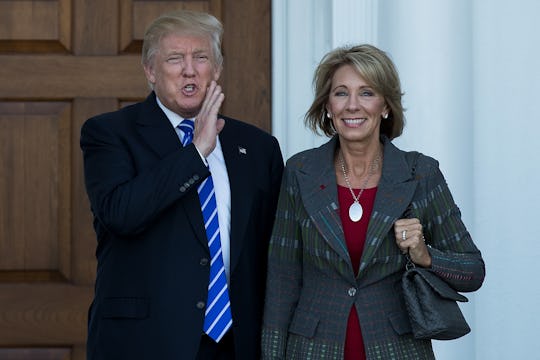 Drew Angerer/Getty Images News/Getty Images
What Is Betsy DeVos' Political History? She's Been Involved With The GOP For Decades
On Wednesday, President-elect Donald Trump announced his pick for the role of education secretary: school-choice advocate and philanthropist Betsy DeVos. She's the current chairwoman of the American Federation for Children, an organization that advocates for school vouchers, tax-credit scholarships, and charter schools. But the billionaire philanthropist hasn't only dabbled in education — DeVos has plenty of political experience, as well.
DeVos started getting involved in politics in 1976, when she bused volunteers around to different cities for Gerald Ford's presidential campaign. According to Mother Jones, DeVos then spent the next two decades working her way up the ladder: she spent time as a Republican National Committeewoman and chaired U.S. House and Senate campaigns in her home state of Michigan. DeVos also fundraised for the Michigan Republican Party, and was chair of the state party from 1996 to 2000, a position she took up for a second term in 2003.
DeVos has been involved in politics in other ways, as well. While she never publicly supported Trump herself during his campaign, she's been a Republican mega-donor for years, and this year, other members of the DeVos family donated $245,000 to the Trump Victory Fund, a fundraising effort intended to keep Democratic candidate Hillary Clinton from the presidency.
DeVos' extensive experience with the GOP might be seen as a good thing, but it could draw fire from Trump supporters who voted for him due to his promises to "drain the swamp" of political elites. DeVos is also a supporter of Common Core educational standards, which Trump vowed to do away with.
"[Trump] repeatedly assured parents across the heartland that he intended to return power over education to local schools," Frank Cannon, president of the American Principles Project, said in a statement. "It is puzzling, then, to see reports that the Trump transition team is considering an establishment, pro-Common Core Secretary of Education — this would not qualify as 'draining the swamp' — and it seems to fly in the face of what Trump has stated on education policy up to this point."
Others are less impressed with DeVos thanks to the educational policies she has supported. According to CNN, the National Education Association (the largest union in the country, which represents educators and school administrators) said DeVos has "done more to undermine public education than support students" and "consistently pushed a corporate agenda to privatize, de-professionalize and impose cookie-cutter solutions to public education."
With her years of political experience and her strong stances on education, DeVos is likely to receive both criticism (from those who want to see political elites gone) and support (from those who approve of Common Core standards or those who advocate for charter schools). But one thing's for sure: she's certainly not lacking in political experience with the Republican Party.