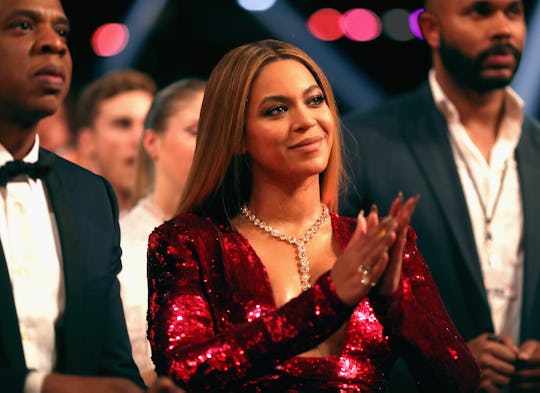 Christopher Polk/Getty Images Entertainment/Getty Images
Beyoncé Is Holding The Most Adorable Thing In Her Twins' Photo
Finally, after what felt like a lifetime of anticipating and impatiently waiting, Beyoncé has revealed her twins, Sir Carter and Rumi, to the world. In a new Instagram post, Queen Bey debuted her new arrivals in a stunning photograph fit for, well, royalty. But as fans took a closer look, something seemed a little strange. So, what is Beyoncé holding in her hand in the twins' photo? Turns out, it's actually the most adorable damn thing ever.
According to the Instagram photo caption, Beyoncé's twins were born on June 14, 2017, making the twins 1 month old. Much like Beyoncé's pregnancy announcement, the twin reveal was filled with hidden symbols and meanings that any avid Beyoncé fan is sure to notice. But while fans were figuring out that the color purple "combines the calm stability of blue and the fierce energy of red," and that a blue veil is a "symbol of women's piety, sacrifice, and observance," others were focused on just what Beyoncé was holding. Oh no, go ahead. Look at Queen Bey's hand right under her adorable, too-damn-cute-for-actual-words twins. Yes, right in the middle of the picture itself. Seriously, what is that?
You guys: that is one of the twins' tiny, cute, precious feet. Beyoncé is just casually cradling a baby foot in her hand, trying to kill us all one sweet picture at a time. In fact, I think I just typed that last sentence from beyond the grave.
It didn't take long for fans to notice that Beyoncé was holding something, it was just more than a little difficult to figure out just what that "something" was. For anyone who may not have had children before (full disclosure: I have a 2-year-old son, so as a mom I am trained in the art of baby-foot-finding) it might have been less-than-easy to figure it out. In fact, the question was posed via Twitter and, well, there were more than a few hilarious responses:
OK, "the holy grail" isn't actually all that far off at all. I mean, have you ever held a tiny little baby foot? You guys, they're magic. Humans are pretty disgusting beings, relatively speaking, but a tiny baby foot is one of the purest things our garbage world can possibly experience. So, I think "holy grail" is pretty fitting, if I do say so myself.
While it's nearly impossible to tell the twins apart, and aside from their names and their age we don't know very much about them, one thing is for certain: the twins and their older sister, Blue Ivy, are loved by a mother and father who have put time, energy, and a boatload of flowers into their announcements and reveals.
Congratulations to the Knowles-Carter family! And just between us, if you feel like posting another twin baby foot picture, feel free. No one is going to be mad about it.