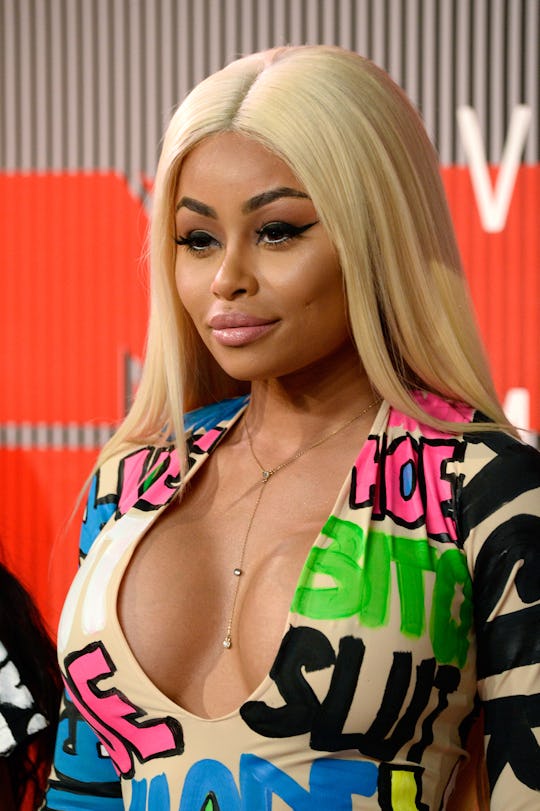 Frazer Harrison/Getty Images Entertainment/Getty Images
What Is Blac Chyna's Real Name? The Mom-To-Be Has A Beautiful Monicker
On Friday, many people around the world freaked out — OK, I freaked out — when it was announced that Blac Chyna is pregnant with Rob Kardashian's baby. The couple has created quite a stir over the last few months, simply based on some previous history with Blac Chyna and the Kardashian family, but this baby is definitely going to bring the two families together — for better or for worse. Fans might already be wondering what Chyna and Kardashian plan to name the baby, but first, let's settle the debate about the mom-to-be's real name. What is Blac Chyna's real name? It's not Blac Chyna, as you probably suspected.
According to her arrest records — sorry to bring such a sour tone to the exciting baby news — Blac Chyna's birth name is Angela Renee White, according to CNN. It's a really beautiful name and I can't help but wonder if the Kardashian family calls her Blac, Black Chyna, Angela, Angie, Angela Renee, ARW, Blac Chyna f.k.a. Angela Renee White. The possibilities are really endless. Hopefully the current season of Keeping Up with the Kardashians will answer this riddle.
Interestingly enough, Cosmopolitan.com says that Blac Chyna is not the only stage name the mom-to-be has had. She has also gone by "Dora Renee" and "Cream" at points in her life, too.
Of course, the next order of business is what she and Kardashian will name their own child. There isn't really a trend in names when it comes to children of the Kardashian kids, but there are certainly some names to live up to. With cousins boasting names like Saint, North, Mason, Penelope, and Reign — REIGN — it will be interesting to see what these two name their forthcoming bundle of joy.
It seems like Chyna is pretty good at coming up with creative names — Blac Chyna is a pretty great name — so I don't worry about them picking a winner. And, if they hit a speed bump in the baby name process, I am sure one of the many family members will have a say.