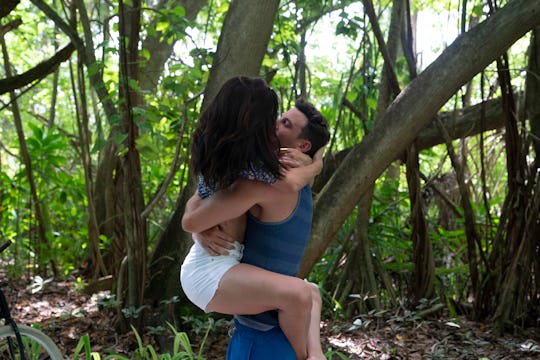 Paul Hebert/ABC
Here's What Blake Has Been Up To After 'The Bachelorette'
It's so hard not to play favorites on The Bachelorette, isn't it? All season long, I've been so drawn to Blake. Becca has too, as he's in the season finale. But that was filmed months ago, so what is Blake doing after The Bachelorette? He's obviously kept his love life quiet, but he's been pretty active on social media regardless.
Judging from Blake's Instagram, he's watching a lot of The Bachelorette. This is not surprising! Other than that, though, he seems to be reminiscing about the show and doing other normal, 29-year-old dude stuff like attending a wedding with his sister and going on runs to raise cancer awareness. If Becca doesn't pick Blake, can I just have him?
Then again, if his Instagram following is any indication, I'm just one of over 280,000 people who feel the same way. Blake is, of course, keeping mum about what he's actually up to — especially if it includes Becca. But there are a few possibilities. He could be engaged to Becca; he could be not engaged to Becca but in talks to be the next Bachelor; he could be in talks to be on Bachelor in Paradise or even the next Bachelor Winter Games.
The final option (the worst option, in my opinion) is that he's not engaged to Becca and simply not involved with the show. That would be so tragic.
If Blake doesn't end up as Becca's husband-to-be, I personally hope that Blake becomes the next Bachelor. At the moment, Bachelor Nation seems pretty divided as to who would make a better lead for the following season, either Blake or Jason. There are also a few outliers who are rooting for Wills "'Sup Baby" Reid, and even Grocery Store Joe who was eliminated night one. But personally, I think that Blake's charm, genuine sweetness, and overall good looks make him an ideal Bachelor candidate. If he's the lead next season I might even sign up for this show myself.
The next time fans will see Blake is on The Bachelorette finale, either slipping that Neil Lane ring on Becca's finger or going home broken hearted. Even though it will probably be fairly devastating, I'm excited to see how After the Final Rose will be if the latter ends up happening. What will that final confrontation between Blake and Becca be like? Will he be too heartbroken to make the case that he should be The Bachelor or on Bachelor in Paradise? Or will he say he's ready to find love again?
Other than seeing Blake on my TV screen once more, I'm looking forward to seeing how his social media presence changes post-Bachelorette. Right now, it's a lot of talk about the show. Which makes sense because of course he has to promote The Bachelorette. But seeing as he's still selling beer in Denver — per his bio — I want to see more of Blake's "real life." Bachelor Nation will soon find out whether that life includes Becca, or whether he's still single.