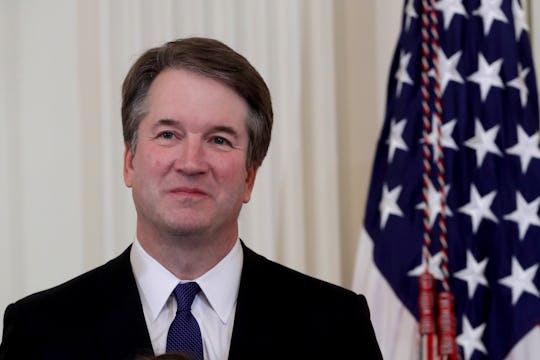 Chip Somodevilla/Getty Images News/Getty Images
Trump's SCOTUS Pick Is Very Involved In His Family's Church
President Donald Trump has nominated Brett Kavanaugh to replace Justice Anthony Kennedy on the Supreme Court. Kavanaugh is a conservative judge from the United States Court of Appeals for the D.C. Circuit, and has connections in politics to the George W. Bush White House. Now that Kavanaugh has been nominated to join the highest court in the land, people are understandably looking into his history, including his personal life, to determine how it may impact his role as a SCOTUS judge, should he be confirmed. Some are asking what Brett Kavanaugh's religion is, partly because he's considered so conservative. And it really doesn't take long at all to figure out his spiritual leanings.
All of the nation's most powerful justices identify as religious, according to Quartz. So Kavanaugh would be in good company if he does make it onto the Supreme Court. Neil Gorsuch, for example, was raised Catholic, but most recently went to a progressive Episcopalian church in Denver, Colorado. And SCOTUS justices Ruth Bader Ginsburg, Stephen Breyer, and Elena Kagan are all Jewish, Quartz reported.
But the biggest religious contingent on the Supreme Court is Catholic. Chief justice John Roberts is Catholic, as are justices Clarence Thomas, Samuel Alito, and Sonia Sotomayor. Even the man Kavanaugh may replace, Anthony Kennedy, is Catholic. As for Kavanaugh himself? He's Catholic too.
Kavanaugh serves as a lector and usher at Blessed Sacrament Church in Washington, D.C., according to NPR. He has also coached the fourth- through sixth-grade girls basketball teams at Blessed Sacrament, so he's clearly pretty involved with his church community.
Kavanaugh also recently spoke out on behalf of the Catholic Archdiocese of Washington, according to VICE News. In March, the D.C. Metro vetoed an ad the Archdiocese wanted to run, featuring the slogan, "find the perfect gift." It reportedly included images of shepherds following a star. The Archdiocese sued the Metro for violating its First Amendment rights, and Kavanaugh called the ad ban "pure discrimination" and "odious to the Constitution," The Washington Post reported.
When Kavanaugh accepted Trump's nomination, he told the audience in the White House East Room, "I am a Catholic," Quartz reported. He spoke of how he used to be an altar boy for his former pastor, Msgr. John Enzler, according to the Catholic News Service. Kavanaugh reportedly also said that he and Enzler now serve the homeless together.
Kavanaugh also said that he tries to live by the motto instilled in him by his Jesuit high school, Georgetown Prep, according to the Catholic New Service. That motto is "be men for others," most outlets reported, although the Georgetown Preparatory School Mission page reads, "Prep's mission is to form men of competence, conscience, commitment and compassion; men of faith and men for others."
It appears that Kavanaugh is very devoted to Catholic causes even outside of strictly church-related events. He reportedly volunteers for the St. Maria's Meals program at Catholic Charities, and belongs to the John Carroll Society, a group of Catholic lawyers and professionals, the Catholic News service reported.
Kavanaugh clearly isn't the type to just attend Catholic mass on Sundays and call it a day. He seems very involved in his church community in a lot of ways, and talked a lot about his faith when he accepted Trump's SCOTUS nomination.
But it's not totally clear how or if Kavanaugh's faith will influence decisions he makes as a justice on the Court, if he is confirmed to take over Kennedy's spot. VICE News reported that his record on abortion "isn't as clear-cut as the pro-life right had hoped," which is interesting given that the Vatican's website states that "the Church has affirmed the moral evil of every procured abortion."
Some political pundits do seem to think Kavanaugh will push the court in a more conservative direction partly because he's so open about his Catholic faith, Quartz reported. But he has also said that it's important not to be a partisan as a judge. In a 2015 speech Kavanaugh gave at Catholic University's law school, he said, according to NPR, "Check those political allegiances at the door when you become a judge."
Whatever Kavanaugh's political leanings as a judge, and whether those politics are influenced by his faith, one thing is for certain: if Kavanaugh is confirmed and joins SCOTUS, he will be in good company as a Catholic Supreme Court justice.