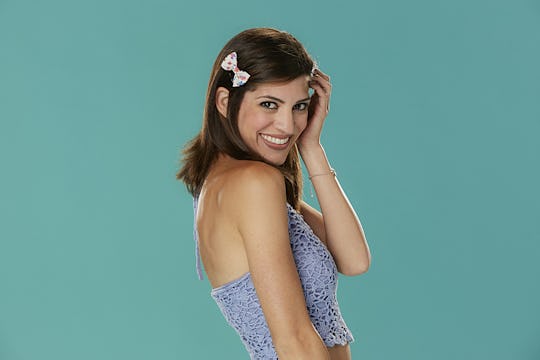 Monty Brinton/CBS
What Is Bronte D'Acquisto's Job On 'Big Brother 18'? The Houseguest Has Been On TV Before
It should come as no surprise that when you meet a new contestant on a reality TV show these days, it's likely not their first rodeo. Such is the case with Bronte from Big Brother 18, who is all about that mathematician life, but has a resume filled with show business-related gigs. So, what is Bronte's job outside of Big Brother 18? According to Bronte D'Acquisto's resume, hosting shows and modeling seem to be more her bag than tutoring and teaching math. Maybe the show business side of Bronte's career is just her side gig, or the math stuff is what she does on the side, but it's got to be one, and I don't think she's mentioned her show hosting or modeling yet on Big Brother 18.
She isn't shy about admitting to her math prowess and education, though, which are warranted for bragging rights, sure, but let's not pretend like Bronte doesn't also have a career in show business that she's chosen to keep on the down low. She wouldn't be the first reality TV show contestant to use a competition show for exposure, though. I mean, OK, there's also that $500,000 prize at the end of the long, challenge-filled tunnel, but Bronte's history with Hollywood Talent & Associates for the past seven years isn't nothing.
Jamie Chung from The Real World San Diego hasn't become a full-fledged A-list celebrity just yet, but she's been in The Hangover 2 and then Once Upon A Time in a reoccurring role. And Emma Stone got her start by competing in the short-lived VH1 reality competition show, In Search of the Partridge Family, so no, Bronte isn't alone in using reality TV to break out, so to speak, if that's what she's doing.
Let's be real, though. If Bronte's job outside of Big Brother is modeling Wrangler Jeans and hosting health shows on the SD Health Network or My Collection Obsession on TLC, then just be open about it, because the truth is always out there. Especially if you're on one of the more popular reality TV shows. Maybe it's a total side job, but Bronte's resume says nothing about her life as a math tutor or instructor, but does list her degree in Fine Arts with a focus in theater from San Diego State University, with classes involving improv acting.
This isn't to say that Bronte isn't the math whiz she says she is, but clearly, there is a job outside of the Big Brother house that is still a large part of her life.