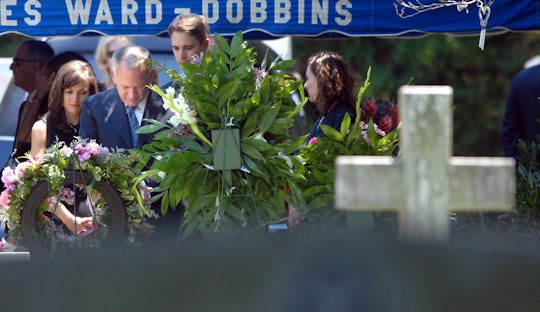 Barry Williams/Getty Images News/Getty Images
What Is Burke Ramsey's Net Worth? He's Led A Very Private Life
In what has become one of the most talked-about unsolved cases in recent years, the 1996 murder of 6-year-old JonBenét Ramsey has made headlines once again, 20 years after the young girl's death. Since CBS aired its highly anticipated docu-series The Case Of: JonBenet Ramsey, which premiered on Sunday, the Ramseys have been back in the news, with viewers likely either re-kindling their curiosity about the Ramseys or introducing themselves to the case for the first time. Part of that introduction includes delving into the family's general history. Apparently, at one point, the Ramseys were once very financially comfortable. So, what is Burke Ramsey's net worth now? The older brother to JonBenét Ramsey recently spoke out, perhaps leading some to wonder how he's doing or what he's been up to in the last 20 years.
Burke appears to be extremely private, and considering the media attention the Ramseys have endured, it's understandable. His exact net worth is unclear, but back in 2012, John Ramsey told People magazine that his son Burke, who's now 29 years old, was working in the high-tech industry with "a 401(k) plan and an IRA, and he did it all on his own." A 1997 People article revealed that John Ramsey once reportedly piloted his own corporate jet, and bought a house with his wife Patsy in 1992, which had an estimated worth of $1 million. The family appeared to live a financially comfortable life, but following the murder investigations, reports revealed that their lives were significantly and financially impacted.
In 2008, DNA tests exonerated John, Patsy and Burke Ramsey as suspects from the investigations in JonBenét's murder case. Attorney L. Lin Wood submitted the following statement to Romper, regarding the family's once-rumored involvement — in this case, Burke's specifically:
In May of 1999, the Boulder District Attorney and the Boulder Police Department publicly confirmed that Burke Ramsey was not a suspect or even a possible suspect. Any statement conveying that this young man was involved in the brutal murder of his sister - his life's best friend - is unquestionable false and defamatory. Conveying this false accusation for TV ratings is unconscionable and will result in litigation in the future as it has in the past. There is no legitimate journalistic or First Amendment value in broadcasting false accusations against Burke.
In an exclusive interview with Dr. Phil, Burke broke his years of silence concerning his younger sister's death – he was just 9 years old at the time – and shared the difficulty of living through any family's worst nightmare. His comments, captured by ABC News, explain how the media attention made an already horrifying time, more difficult:
For a long time, the media made our lives crazy. It [was] hard to miss the cameras and news trucks in your front yard. They would follow us around. Seeing that as a little kid — it's just kind of [a] chaotic nightmare, so I was pretty skeptical of any sort of media. Like, it just made me a very private person. As to why I'm doing it now, it's the 20th anniversary, and [there's] apparently still a lot of attention around it.
According to Variety, CBS cut The Case Of: JonBenet Ramsey from six hours to four, now making a two-part installment. It continues to be a difficult, horrific, and mysterious case to unpack — and for Burke, no matter how well he appears to be doing these days, re-living it all can't be easy.