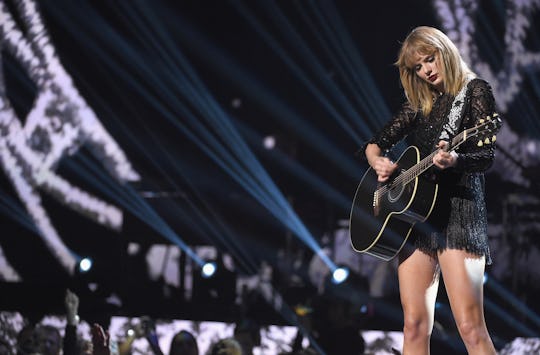 Kevin Winter/Getty Images Entertainment/Getty Images
Here's What Fans Think Taylor Swift's New Hit "Call It What You Want" Is About
There are three things that will always be true in this world: pizza is a perfect food, Joe Biden is a national treasure, and Taylor Swift will never cease to stop surprising people. And with news of yet another single to be released from her forthcoming album, there are so many questions the world is asking. For instance, what is "Call It What You Want" about? Taylor Swift's new song has fans thinking that the old Taylor might not be so dead after all.
Thursday morning, a mere six days after Swift released the music video for "...Ready For It?" from her new album, Reputation, she took to social media to announce that she was releasing another single from the album at midnight. And so, naturally, fans are wondering what the new single — called "Call It What You Want" — is all about.
Since Swift also blessed the internet with a handful of lyrics from the new song, there's actually quite a lot of evidence to go off of. And even though fans will probably have to wait until the song actually comes out to know what it's really and truly about, that doesn't mean you can't speculate. And, using my top-notch journalistic skills and inner Swiftie powers, I hereby promise to do my best to analyze the heck out of what this new song could be about.
So, let's break it down. In two Instagram posts, Swift shared a sampling of lyrics from the new song, which are as follows:
Holding my breath/ Slowly I said/ "You don't need to save me..
But would you run away with me?" ... "Yes"
Obviously, the new song is somewhat of a love song. The lyrics seem to hold an air of romantic dreaminess, which of course, could totally change once the song is released if the music is more upbeat, but the intensity of the lyrics remains. And what's more, there are some striking parallels between some of the lyrics Swift shared of the new single, and some of her previous hits.
Specifically, the line "You don't need to save me," seems to be somewhat of a feminist upgrade from the line, "Romeo, save me," Swift sings in her 2008 single, "Love Story." Then, another shift in attitude comes with the line, "But would you run away with me?" which is definitely different from "Romeo take me somewhere we can be alone."
Clearly, it seems that this new single is somewhat of an upgrade from Swift's 2008 love song about being rescued — and rightly so. Swift is nearly 28 years old, and has spent more than a decade of her life learning and growing up in the spotlight. So, it's completely understandable that her perception on relationships would change over the years.
But, that isn't the only theory fans have about the song. According to many Tumblr users, "Call It What You Want" could be about Swift's newest relationship with British actor, Joe Alwyn. The two young stars have been dating for months now, and seem extremely happy together, so it would make sense for many of the songs on Reputation to be inspired by him.
Of course, it wouldn't be fair to make this assumption about the song without mentioning that Swift's songwriting skills go far beyond belting out about her exes. As The Washington Post noted:
Those who know Swift only from those headlines and her major commercial hits ("Love Story," "You Belong With Me," "We Are Never Ever Getting Back Together") miss the fact that her music goes far beyond crushes and exes. Swift, who has solo or co-written every song she's ever recorded, also tackles other substantive subjects.
Even if these theories about the song are completely off-base, there is one other detail from Swift's post that deserves to be discussed as well. While the Swift in "Look What You Made Me Do" claims that the old Taylor is dead, Swift's post with handwritten, poetic lyrics seems to prove that idea wrong. The old Taylor wrote lyrics on her arms at concerts, and posted photos of them on social media.
So, with this latest Instagram post and announcement, Swift seems to be letting her loyal fans know that even though she's matured, she still remains the passionate, artistic, creative, and endearing pop star that she always has been.
Watch Romper's new video series, Romper's Doula Diaries:
Check out the entire Romper's Doula Diaries series and other videos on Facebook and the Bustle app across Apple TV, Roku, and Amazon Fire TV.