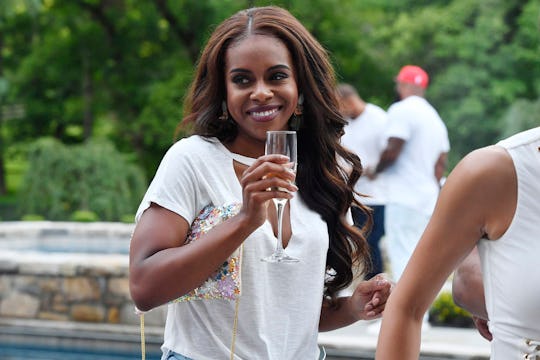 Larry French/Bravo
Candice Dillard On 'Real Housewives Of Potomac' Keeps Busy Outside Of Filming
The newest member of The Real Housewives of Potomac is bound to cause some drama with her arrival. If she has time, of course. Candiace has a pretty long resume of various projects she's been involved with and she has a wedding to plan with her fiancé Chris Bassett, who will also be on the show. So what is Candiace Dillard's job now that she's mostly filming for The Real Housewives of Potomac?
Dillard went to Howard University, according to her official Bravo profile, and worked as a staffer in the Obama White House in the Offices of Public Engagement and Intergovernmental Affairs, mainly focusing on being a liaison between the Oval Office and the African American community. In 2012, she stepped out from behind a desk and worked on his reelection campaign. But she had other things on her mind once he got into office.
In 2013, Candiace won Miss United States and then spent some time on the pageant circuit, much like her fellow RHOP cast member Ashley Darby. Candiace didn't win another crown, but she did place high in the Sunburst, National American Miss, National Miss American Coed, Georgia Miss American Coed, Miss Maryland USA, and Miss District of Columbia USA pageants. Her Bravo tagline is, "Life is a pageant and I'm in it to win it," which is pretty fitting. But she's not just a pretty face, though she is that, too.
After killing it on the pageant circuit, she founded Candiace Dillard Pageant Consulting, where she helps young women follow in her footsteps. Judging from her Instagram page, she's still active in pageant consulting, or at least it looks that way as she poses with younger women and their ribbons. Though it's not really clear from the captions whether they're her clients or just women she mentors.
Candiace is also the cofounder of Prima Hair Collection by Candiace Dillard, and co-owner of Chateau Salon Suites, though it's not clear whether she works with the companies on a day to day basis or keeps a silent co-founder position. According to Bravo, she also founded a mentorship and women's empowerment organization called My Sister's Keeper, which pairs young women up with other successful women in their communities.
Again, it's not clear how much of a role her companies and organizations will play on the show, but the producers always like a good fundraiser and some interior shots of where the women work, so it's likely we'll get to see Candiace in action. In addition to all of her business and outreach endeavors, Candiace also played a villain on the web series Pivot Point. She's a queen of all trades, as you can tell.
Candiace is rightfully proud of all of her achievements, but she might be a little too much for some of the other RHOP cast members to handle. In the promo for Season 3, Charisse and her seem to get into it over lunch, with the latter asking the table where Candiace "came from." The pageant queen doesn't miss a beat and tells her that she "came from Jesus." So it might be a rocky start.
In February, the business owner tweeted:
Y'all Housewive types kill me with this "I came from nothing and look at me now...hard work and dedication blah, blah, blah..." All the hard work you did marrying your rich husband and spending his money. Girl, come out of your delusions and hushyamouf.
Now, I don't know who she was subtweeting with this, but the fact that she capitalized "Housewife" has me thinking it was a pointed dig at one of her cast mates or some other women in The Real Housewives franchise. Yowzers, this is not going to be a chill season. (As if Andy Cohen would have such a thing.)
With all this drama going on already and her hands in so many money makers, Candiace is definitely a "housewife type" to watch,
Check out Romper's new video series, Romper's Doula Diaries:
Watch full episodes of Romper's Doula Diaries on Facebook Watch.