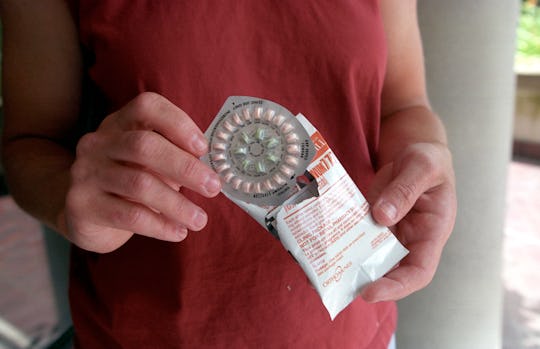 Tim Matsui/Getty Images News/Getty Images
This Abortion & Birth Control Non-Profit Is Making Waves
President Donald Trump and his new administration's restrictive policies and budget cuts could ultimately make access to abortions, birth control, and affordable women's healthcare more difficult — or entirely impossible — for countless women across the nation. Not everyone, it seems, is ready to take that sitting down. A nonprofit abortion and birth control clinic called Carafem has been making waves in some affected communities for its attention-grabbing advertisements that boldly let people know its staff provide the many essential women's health care services that are seriously at risk of losing funding or getting banned altogether.
Carafem's hot pink, welcoming, and in-your-face marketing techniques and new locations have sparked heated backlash all over the nation for years, but most recently, in the Bible Belt — a region stretching from Texas to North Carolina where socially conservative and religious views play a strong role in a society and politics — it's been facing renewed opposition, as STAT, a health news site, reported Monday. Despite the constant pushback from pro-life groups over the years, the clinic has remained open and has taken on a mantra that strives to destigmatize a woman's right to choose to have an abortion or use birth control.
"We want to be really out loud about what we do," Melissa Grant, Carafem's vice president of health services, told STAT. "Abortion. Yeah, we do that." She added,
People who don't agree with our message, our pink signs, are going to disagree regardless. What it can do is point out the difference in the way this service is talked about, in the way this division of health is handled. It can speak to the people who agree with us.
According to the non-profit, Carafem believes "it is time for a new approach to abortion care" in the United States and provides early-term abortions to women at all of their locations within the first 10 weeks (or 70 days) of a missed period with the abortion pill. Women can also opt to have a surgical abortion done — which the clinic calls the "carafem procedure" — within the first 13 weeks (or 91 days) of a missed period in select locations.
Carafem also offers a wide range of contraceptive options, including condoms, birth control, emergency contraception, and IUDs.
Over the past year, abortion providers have been shutting their doors at "a record pace" due to new state laws and lack of federal funding, according to The Washington Post. Since 2011, at least 162 clinics have closed across the nation. Texas lost more than half of its abortion providers, while only 22 opened.
The debate on abortion and birth control is far from over, but Carafem's non-judgmental and unapologetic approach allows women women seeking abortions and birth control to feel safe during what is often an emotionally stressful time. While there are still many barriers to break down and stigmas to tackle, knowing there are options like Carafem that give women and their families the ability to do what is best for them is a welcome comfort.