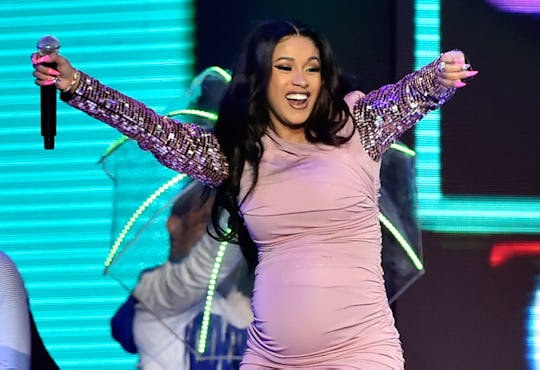 David Becker/Getty Images Entertainment/Getty Images
Will Cardi B Pass On Her Name To Her Daughter?
Fans of Cardi B have been waiting with bated breath for she and husband, fellow rapper Offset of Migos, to welcome their new bundle of joy. Now that Cardi B has given birth to her daughter, all anyone can talk about is the baby girl's name, Kulture Kiari Cephus. Is she named after her mother? What is Cardi B's last name? Cardi B's real name is Belcalis Almanzar, so it doesn't look like she's passing down her own last name to her daughter.
TMZ reported on Wednesday that Cardi B had given birth to a daughter on Tuesday night in a hospital in Atlanta. Her husband Offset, who's real name is Kiari Cephus, was reportedly by her side. The happy couple named their daughter Kulture Kiari Cephus and while Kulture is (clearly) an extremely unique name, it looks like the two still decided to honor their baby's father with her second two names in a (relatively) traditional move.
And to be fair, let's be honest here, Kulture is hardly the most unusual celebrity baby name in existence (I'm looking at you Chicago, Stormi, and True). Then again, Cardi B's own birth name of Belcalis is not exactly the most common moniker I've ever heard of. Perhaps Cardi B simply wanted her daughter to have a name as unique and beautiful as she is. And little Kulture certainly got that.
Since Kulture is named after her dad, I wonder if she'll at least get a nickname as catchy as her mom's. Cardi B has explained the story behind going by "Cardi B" a few times, and it is darn charming. As long-time fans of the rapper will know, Cardi B's sister's name is Hennessy. So apparently growing up, friends would jokingly refer to Cardi as "Bacardi," which was eventually shortened to "Cardi." As for the "B," Cardi explained on the Wendy Williams Show, "The 'B' stands for whatever the 'B'... be," whether that be "beautiful or a bully," depending on the day of course. Personally, if I had a name as straight up majestic as Belcalis Almanzar, I would insist on being referred to exclusively by my full name — all six syllables of it.
Though you might not think that naming a child Kulture is exactly traditional, Cardi B and Offset did decide to name her after her dad which I think is a sweet way to carry on a family legacy. Maybe their next child will have "Belcalis" in her name somewhere (fingers crossed).
Throughout her pregnancy Cardi B has been relatively close-lipped about her personal life. Though rumors abounded, she didn't reveal her pregnancy until several months in during a live performance on Saturday Night Live when the camera panned down to reveal her belly in a form-fitting white dress. Before then she'd simply made jokes about being left to "fat in peace." Then, in a move almost as shocking, she revealed that she and Offset weren't just engaged, they had been secretly married almost a full year beforehand.
Given all of this, I was a little surprised when Cardi just went ahead and announced Kulture's birth on her Instagram on Wednesday. I was kind of expecting that she would give birth secretly on a private island somewhere and only announce that she'd had her baby when the little girl was around six years old — which she is totally in her right to do, of course. That being said, I'm so happy for Cardi B, Offset, and their growing family. Now there's nothing left to do but wait patiently for baby pictures. Knowing this family, Kulture will probably make her debut in a groundbreaking stage performance.