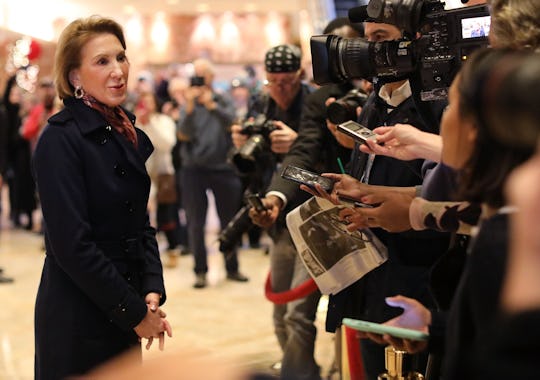 Spencer Platt/Getty Images News/Getty Images
What Is Carly Fiorina's Net Worth? She Might Add To The Wealth Of Trump's Cabinet
Although former Hewlett-Packard CEO Carly Fiorina made headlines during the presidential election as the only female candidate vying for the GOP nomination, she seemed to bow out of the public eye after dropping out of the race. But according to The New York Times, President-elect Donald Trump is now considering the businesswoman to be the director of national intelligence. What is Carly Fiorina's net worth? Like Trump, Fiorina's background is in business, not politics, and she has done very well for herself financially. But she doesn't actually have much experience with national intelligence matters — and according to some reports, she wasn't a particularly successful CEO, either.
The notion that Trump would choose Fiorina for a Cabinet position is an interesting one for many reasons, but one of those reasons is that, well, her feud with the President-elect was one of the most memorable things about her entire election bid. In September 2015, Trump came under fire for negative comments about Fiorina's appearance in a feature in Rolling Stone, during which he was quoted as saying,
Look at that face! Would anyone vote for that? Can you imagine that, the face of our next president?! I mean, she's a woman, and I'm not supposed to say bad things, but really, folks, come on. Are we serious?
It appears, though, that the hatchet has officially been buried, because, according to The New York Times, Fiorina met with Trump at Trump Tower on Monday to discuss a possible role in his transition team. And, judging by her comments after their meeting, it sounds like it went well. When asked what she and Trump discussed, Fiorina said:
We talked about the opportunity that the president-elect has to literally reset things, to reset the trajectory of this economy, to reset the role of government, to reset America's role in the world and how we're perceived in the world. And I think it's why he's getting such fantastic people in his administration.
The high quality of people that he's named already says so much about his executive abilities. But it also says that people recognize the opportunity that our new president-elect has to really make a huge impact on people's lives in this country and on events around the world. So it was an honor for me to be there.
But according to Politico, Fiorina said the two also talked about the reports of hacking led by the Russian government. That, of course, would be an important thing for a potential intelligence director to discuss, but despite the general consensus among U.S. intelligence experts that Russian hacking did almost certainly take place, according to The Independent, Fiorina appeared to share Trump's view that it may not have been Russia at all. She told reporters that their discussion about hacking was focused on "whether it's Chinese hacking or reported Russian hacking," which suggested that she is likely to align with Trump's view on the matter if she does become the director of national intelligence.
Other than a position on the CIA External Advisory Board during President George W. Bush's administration, Fiorina doesn't have any direct experience with intelligence matters, according to Politico. But as a businessman-turned-president-elect, Trump likely views Fiorina's past as a CEO as just as important. And, as someone who has often commented on his own net worth as proof that he's qualified to run the country, the fact that Fiorina is also worth an impressive amount of money has to be something that is working in her favor.
According to CBS News, Fiorina and her retired AT&T executive husband Frank have a collective net worth of $59 million. In addition to their $6.6 million home in Virginia, the couple has additional real estate portfolio worth more than $2 million. And, in 2013 alone, the Fiorinas' taxes showed they earned nearly $2 million, and Fiorina also has a sizeable investment in the stock market, with holdings that include tech companies, pharmaceutical companies, and banks, as well as "$13,123.50 worth of HP stock" leftover after cashing out $262,826.06 "in a 'sale of call options for Hewlett-Packard Company (HPQ) common stock'."
In fact, Fiorina's financial success means that, while she was running for the Republican nomination, the only candidate worth more than she was was Donald Trump himself, according to the Las Vegas Review-Journal. And honestly, given the number of men she was running against, that seems incredibly impressive. But her comments about feminism and equality during her campaign suggest that her personal success hasn't exactly made her more understanding of the struggles women face in the workplace. According to Vox, when Fiorina was asked during her campaign whether she'd been able to break the glass ceiling as HP CEO, she pretty much dismissed the idea entirely, and said, "I hope that we are at a point that everyone has figured out that there is not a glass ceiling." She has also criticized equal pay initiatives like the Paycheck Fairness Act and Lilly Ledbetter Fair Pay Act, according to CNN, arguing they were just "tokens" and "gestures."
But if Fiorina's business savvy is supposed to be making up for her lack of government experience, there might be reason to be concerned. According to Fortune, during her tenure at Hewlett-Packard, shares fell approximately 45 percent, and in 2005, she was let go. Fiorina explained her track record by arguing that she "led Hewlett-Packard through a very tough time, the worst technology recession in 25 years," and that's fair. But Fortune noted that, while other comparable tech companies were also struggling, they were doing better than HP was under Fiorina's leadership. She has also been criticized, according to NBC News, for overseeing a merger between HP and Compaq that resulted in mass layoffs. Overall though, Fiorina has said she believes she was still a successful CEO. According to NBC News, she said:
What people fail to comment on is the fact that we doubled the size of the company ... We went from lagging behind in every product category to leading in every product category. And yes, in fact, we grew jobs here in the U.S. and all over the world. You can't just leave those facts out. Because they are as vital to the record to the fact that yes, indeed, I had to make some tough calls during some tough times.
Either way, while we still have to wait to hear exactly what Fiorina's role will be in Trump's Cabinet, it sounds like she and Trump have found common ground, and that she has become supportive of his policies and plan for the country. It's still to be seen exactly what she will bring to the table if she does indeed become intelligence director, but at least for now, it doesn't seem as though we should expect her to come down hard on any suspected Russian hacking.