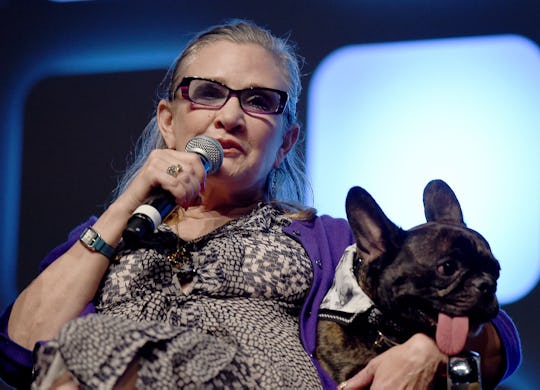 Ben A. Pruchnie/Getty Images Entertainment/Getty Images
Carrie Fisher's Net Worth Reflected Her Career
Beloved actress, writer, and screenwriter Carrie Fisher, who rose to fame in the Star Wars films, has died at the age of 60. This news comes shortly after she suffered a heart attack aboard a flight from London just before the holiday. Fans, friends, and her colleagues in Hollywood have been sending well-wishes her way since the news broke. Many have been Googling Fisher this week to learn more about her work — as she was far more than just Princess Leia in the Star Wars franchise. Some might be curious about how much she was able to earn in her lifetime, having so many careers. So, what is Carrie Fisher's net worth? Her hard work garnered her millions, and she was worth every penny.
Although Fisher is most well-known for her role in Star Wars, she was also an accomplished writer. One of her most successful books, a semi-autobiographical novel, was made into a blockbuster film starring Meryl Streep (Postcards From The Edge). Fisher also write several memoirs, including the very well-received Wishful Drinking, which was released in 2008 and chronicled her ongoing struggles with substance abuse and mental illness — two subjects she was always very transparent about.
Fisher had recently returned to the screen as Princess Leia, the role she's most well-loved for, in 2015 for Star Wars: The Force Awakens, and had just finished shooting Star Wars: Episode VIII, which is slated for release this coming year. In addition to her work on screen and at the writer's desk, Fisher was also an accomplished "script doctor," and was responsible for helping several major motion pictures come to life over the last few decades, including: Hook, Sister Act, and The Wedding Singer. Script doctors are screenwriters who are brought in to spruce up scripts that need a little help developing characters, plot, or dialogue. Given her success as a writer and an actress, it's no surprise she was so successful at helping make movies from behind-the-scenes as well.
Throughout her career, it's estimated that Fisher amassed around $5 million dollars through all the incredible talents she lent to Hollywood. While it's often difficult to know exact numbers when talking about celebrities' wealth (unless they're very transparent about it), Fisher's career was largely successful, though dotted with periods of time that she spent fighting drug addiction and struggling with mental health, which often took her away from her creative work for stretches of time. She always bounced back, though, and not only used her struggles to fuel her work, but was open and transparent with her fans and the public about what she went through.
Fisher was also beloved by fans in more recent years for her unique relationship to Twitter, which she often used in the way many parents and grandparents do (that is to say, with many questions about how to use it). Her very enthusiastic, if not sometimes cryptic, emoji use endeared her to the internet at large and inspired at least one meme.
No matter how much money Carrie Fisher had, there's no doubt that she had earned it all, and probably deserved more than she got. Fisher gave so much, on screen and off, and she will truly be remembered as an icon.