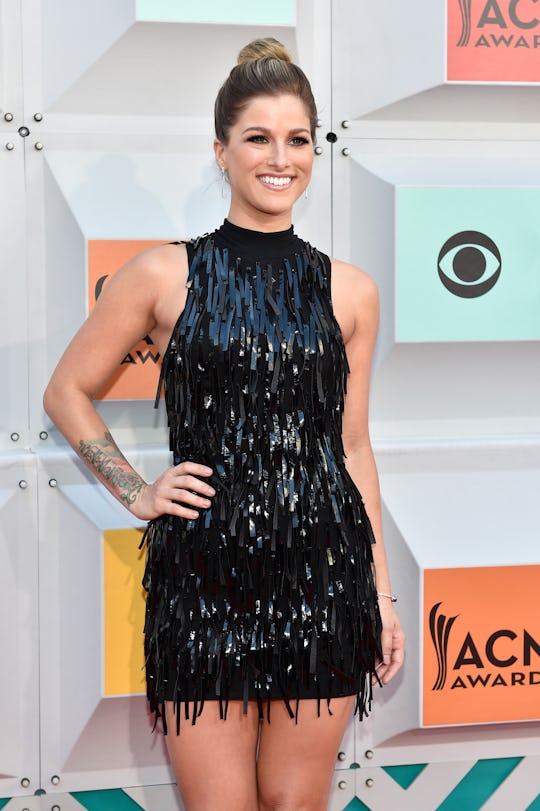 David Becker/Getty Images Entertainment/Getty Images
What Is Cassadee Pope's Tattoo? It Represents Her Love Of Music
Cassadee Pope donned an adorable, sequined black dress at the 2015 ACM Awards in Las Vegas on Sunday, and kept her accessories simple. However, she was rocking her usual, permanent accessories: her gorgeous ink. So what is Cassadee Pope's tattoo? According to Hollywood Life, she has not one, but three beautiful tats. Her most subtle ink is a smiley face on her hand, and her two larger ones are on her forearm. One of them is a bird with sheet music coming out of its mouth, and the other is artwork of a bird and ribbon. Speaking to CMT News about her ink in 2013, the "I Am Invincible" singer said:
There's one on the back of my arm. It's a bird singing. Then I have one on the front that says BND which stands for Believers Never Die. Then I have a smiley face on my hand for my great grandfather. We were really close, and he passed away when I was 10. I called him happy, so I got a happy face for him. Then I have some clouds and pinks and blues and a vine on my wrist where the birds are perched.
Pope doesn't plan to stop getting tattoos, either — but she wants to get her next one to celebrate a big moment. "I want to wait until something monumental happens," she told CMT. "Hopefully I'll have a No. 1 single someday, and I'll be able to do that." (Sounds like an excellent motivation tactic to me.)
At the ACM Awards, Pope took the stage with country singer Chris Young to perform their duet, "Think of You." Pope wasn't nominated for any awards Sunday night, but performing at one of country music's biggest nights of the year was a triumph in and of itself for Pope. It was only in 2012 that she started her solo career, a move that began when she decided to compete on The Voice. There, judge Blake Shelton — who incidentally also performed at the 2016 ACM Awards — took her under his wing, and she ended up winning the show's third season with a record amount of votes.
After her stellar performance at this year's awards, I have a feeling she might nab a nomination of her own in the next couple of years. Who knows, maybe she'll even celebrate with a new addition to her already awesome collection of ink.