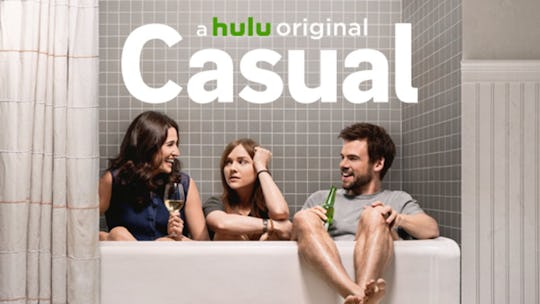 Hulu.com
What Is 'Casual'? Golden Globe Nominee Might Be Unfamiliar, But You Should Start Watching Now
The 2016 Golden Globe Nominees were announced Thursday morning from the Beverly Hilton Hotel in Beverly Hills, California, honoring the best in both film and television in over 25 categories, voted on by members of The Hollywood Foreign Press Association. And though many of the nominees were quite familiar to anyone who has seen an awards show (hello Leonardo DiCaprio), there were a few names that might surprise even the most fervent of TV fans. And those fans, in fact, might have found themselves asking: What is Casual, the Golden Globe nominee for Best Comedy/Musical TV Series?
Well, you won't find it on your normal TV channel guide. It's not incredibly surprising that the Golden Globes are trying to branch out to capture relevance in the industry — after all, more and more TV fans are headed towards streaming services instead of simply cable. So while Casual is nominated alongside more traditional shows like Silicon Valley and Veep, it also made the cut alongside other streaming shows like Transparent and Mozart In The Jungle. But for those hoping to check out the series after its nomination, what can you expect from Casual?
Casual is a Hulu comedy show centered around a perpetually single brother and his newly single sister, who are both living under one roof again and for the first time since their childhood. Together, they help one another navigate the dating world while simultaneously raising the sister's teenage daughter. The series — which stars Michaela Watkins, Tommy Dewey, and Tara Lynne Barr — was created by Zander Lehmann earlier this year and, clearly, is already receiving high praise as one of the best comedies on television.
Casual has already been renewed for a second season, and TVGuide.com named it the "best comedy of the fall", claiming the show "offers a more realistic depiction of modern dating than any other show out there". While Hulu has had a difficult time creating an original show that stood the test of time, it's obvious Casual is here to stay and Hulu finally has an opportunity to compete against the powerhouse Netflix as the "go-to" place for original, non-cable programming.
After the 2016 Golden Globes, if you don't know what Casual is all about, well, you'll be hearing a lot of this:
Images: Hulu.com