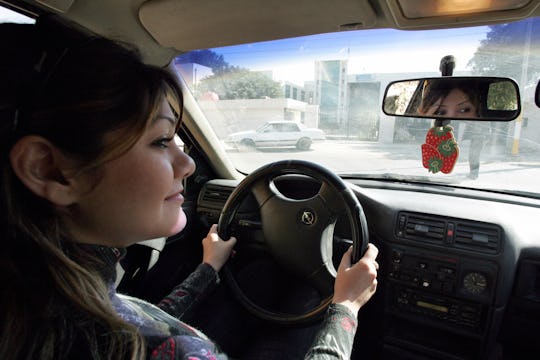 SABAH ARAR/AFP/Getty Images
What Is Chariot For Women? A New Startup Promises Safer Rides For Women
After a number of women began publicly speaking out about being harassed (and sometimes even assaulted) by their car service drivers, the need for something safer became pretty clear. A new ride-hailing service — Chariot For Women — is getting ready to make its first major city debut next week to the excitement of urban-going women everywhere. So what is Chariot For Women? The new ride-hailing service describes itself as "Driven for women. Exclusively for women." It's an innovative premise, for sure — and the latest entrée into the mobile app ride-hailing market that actually got its start with a former Uber driver.
Michael Pelletz, founder of Chariot For Women, got the idea for the women-only ride-hailing service when he was a driver for Uber. His wife Kelly was also interested in becoming a driver for Uber, but, according to the official Chariot For Women website, she said she was "too nervous and scared to do it. This point stuck with Michael for the next year." Then, it was after a separate incident when Michael Pelletz took on a passenger that made him feel unsafe while driving that the inspiration for a women-only ride hailing service came to fruition.
Chariot For Women intends to hire only female drivers and accept female passengers and boys under the age of 13. Its female-only policies have some crying foul — opponents of the new service say Chariot For Women's hiring and passenger policies are discriminatory to men. A similar women-only ride-hailing service, SheTaxis, faced similar claims of gender discrimination legal issues. SheTaxis is based in New York while Chariot For Women is based in Massachusetts — a state where certain exceptions of gender discrimination have legal precedent, such as the case with the chain of women-only fitness centers, Healthworks.
Besides offering a safer alternative to similar services such as Lyft, Uber, and even regular taxis, Chariot For Women will have drivers and passengers confirm their ride match with the use of a "safe word" — a feature exclusive to their service. While founded on the premise of offering a safer alternative for women needing a ride Chariot For Women also intends to donate two percent of its fares to "female focused charities and foundations" on a rotating basis, according to its website. The startup welcomes input on potential charities and foundations from its customers and fans.
Chariot For Women and its women-only ride-hailing app will launch in its first city — Boston, Massachusetts — on April 19.