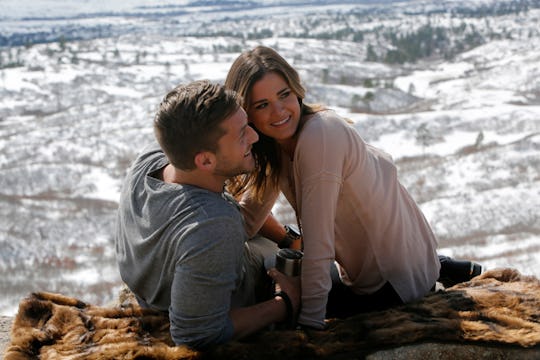 Adam Larkey/ABC
What Is Chase From 'The Bachelorette' Doing Now? He's Probably Outdoors
Well you guys, it's time for me to admit I was wrong. Before Monday's episode of The Bachelorette, I was completely positive that JoJo Fletcher was going to send Chase McNary home, and take Jordan Rodgers, Robby Hayes, and Luke Pell with her for the overnight dates at an undisclosed location. I was wrong. The episode ended on a cliffhanger, with Luke having finally confessed his love to JoJo at the last possible second, moments before she was going to send him home, leaving JoJo kneeling on the ground in tears at the airport hangar, confused and overwhelmed. Though we didn't get to see if JoJo went through with her original decision to send Luke home, I'm suddenly a lot less confident in my original predictions, which means that I now am filled with a burning curiosity about Chase. I still don't think he's going to win in the end, but I'm suddenly desperate to know who he is. And what has Chase been doing lately?
It's not hard for any Bachelorette-meteorologists to feel that the final rose already has Jordan Rodgers' name on it, someone who has been her clear favorite from the very beginning. As ABC has been promoting Luke more and more frequently, it's also a pretty fair assessment to predict that he's going to be our next Bachelor. So where does that leave our dark horse, Chase these days?
Presumably, he is at home, resuming his old life as a medical sales rep in Denver, Colorado. From his social media, we can assess what his usual pastimes are, and speculate as to what he's doing now.
Perhaps, for example, he's going for shirtless horseback rides on this guy, named Samson. I understand that Colorado can get hot in the summer, but I do hope that Chase remembered his sunscreen.
Chase also enjoys riding around some rocky terrains going full-throttle in his Wildcat. In his caption of this pic he said, "After a long, but productive day, I couldn't stop thinking about how much fun I had last weekend." I guess this means that Chase is back to work, but still has time for fun on the weekends — and also has time to be reflective and remember the enjoyable moments of his life.
Perhaps the self-described momma's boy is hanging out on the golf course with his mom. I wonder who's got the better drive?
It is also not at all unlikely that Chase is, at this very moment, typing into Google, "lions inspirational quotes." Chase has a well-documented lion obsession, as evidenced by his enormous tattoo pictured here, as well as on every other Instagram picture and his Twitter banner. If JoJo has broken his heart, perhaps these majestic creatures can help heal this Colorado beefcake's wound.