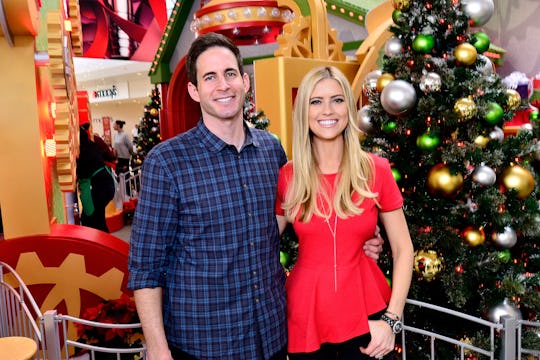 Jerod Harris/Getty Images Entertainment/Getty Images
What Is Christina & Tarek El Moussa's Net Worth?
When Flip or Flop stars Tarek and Christina El Moussa officially announced their separation in December 2016, fans were understandably surprised. But what was even more unexpected? The news that the former couple had actually secretly separated months earlier, despite continuing to make public appearances together. That might have seemed like an unusual decision, but given that their split could have meant the end of their popular HGTV reality show, it also makes sense. What is Christina and Tarek El Moussa's net worth? The real estate developers have built a pretty impressive business. And it sounds like it's one they intend to continue to share, even though they are no longer together.
Earlier this year, Christina opened up about the separation in an interview with People, and told the magazine that the couple's success was a contributing factor to their eventual split. While the launch of Flip or Flop in 2013 was definitely a high point for them career-wise, Christina said that adjusting to fame, as well as the increased demands on their schedules, was tough. Making things even more challenging was the fact that they also faced a number of personal difficulties — Tarek was diagnosed with thyroid and testicular cancer in 2013, and not long after, Christina suffered a miscarriage after attempting to become pregnant with their second child through in vitro fertilization.
While the couple did end up welcoming another baby — their son, Brayden, is now 20 months, and they also share a 6-year-old daughter named Taylor — Christina told People that she returned to work only four weeks after his birth, and that she felt "overwhelmed" by the demands and expectations. And honestly? Given the number of different projects Christina and Tarek remain involved in on top of all they've been through (not to mention the fact that they have also been raising young kids throughout it all), it doesn't seem entirely surprising that they found it hard to cope. One silver lining, at least? Their business success has netted them a pretty impressive payday.
In April, HGTV announced that Christina and Tarek would be filming a seventh season of their hit house flipping show, according to Variety. What's more is that, despite the couple's split, the network had actually ordered 20 episodes, which is more than any previous season they'd filmed. But given the show's popularity, that's also not totally surprising: the most recent season attracted 17 million viewers, according to Variety, and Flip or Flop has also inspired a number of spin-off shows. While it's unclear how much Christina and Tarek currently earn from the show, in 2013 they told The Orange County Register that they were making $10,000 per episode, which would be on top of the already sizable profits the two make from their actual renovations. And that can translate into big money: the Gazette Review speculated that Christina and Tarek may have made more than $5 million from their televised real estate flips alone.
Of course, the TV renos are not the only way the exes have built their fortune. According to ABC News, Christina and Tarek own a real estate seminar company, and are continuing to appear at speaking engagements together. They also co-own a construction and design company in southern California, which they created after the 2008 recession left the one-time real estate agents struggling, according FOX 11 Los Angeles. The former couple also wrote a book that was expected to be released earlier this year, although news of the split led to the project being postponed (and possibly canceled outright), according to USA Today.
As any divorced couple knows though, going through the process of legally splitting up can have a big financial impact. Although it's not clear how Christina and Tarek plan to divide their assets, the Gazette Review estimated their individual fortune to be around $4 million each, and that includes their former marital home, as well as a yacht.
Regardless of the actual figure though, it seems pretty clear that both Christina and Tarek plan to continue to work together to maintain the thriving career they have worked for years to build. In February, Tarek told Entertainment Tonight that "there are good days [and] bad days" when you still run a business with your estranged wife, but said he and Christina "love what [they] do," and that they "know what we have to do to support our family and continue our career." As for the division of assets? Tarek confirmed that things were basically equal between them, and said, "I don't have to go after any alimony, I mean, we do everything jointly."
Christina and Tarek's split may have been disappointing news for fans of the couple, but it definitely doesn't sound like they plan to go anywhere anytime soon. And given the success they've experienced from their TV flips, it's easy to see why they'd want to continue.