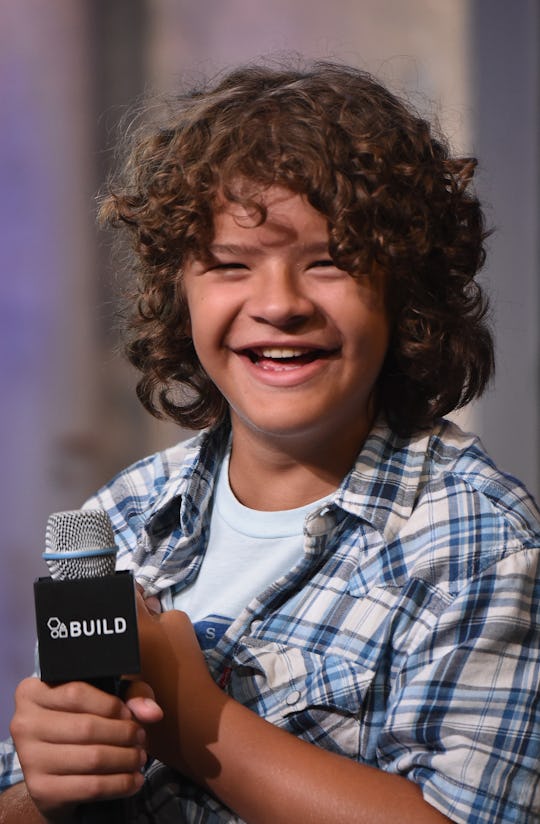 Michael Loccisano/Getty Images Entertainment/Getty Images
What Is Cleidocranial Dysplasia? 'Stranger Things' Gaten Matarazzo Lives With Rare Disease
Most people might have finished binge-watching Stranger Things, but that doesn't mean we're done thinking about the show or its adorable characters. And while your favorite character might be Eleven or Jim Hopper (guilty!), you can't deny that Dustin is the coolest kid — and arguably the most mature. Now, the actor who plays him, Gaten Matarazzo, is showing everyone how cool and mature he is, too. Matarazzo recently opened up about a rare disease he has called cleidocranial dysplasia, how he copes with it, and how he's trying to help inspire others, according to People.
The National Institutes of Health defines creidocranial dysplasia as a condition that affects the development of bones and teeth and varies vastly in symptoms. The disease is extremely rare, only appearing in one in a million people worldwide.
People with the creidocranial dysplasia typically have narrow, sloped shoulders that can be brought very close together in front of the body. Some other symptoms are below average height, short fingers, knock knees, and delayed loss of baby teeth. But again, the symptoms and severity vary widely from case to case.
Matarazzo has a very mild case, according to Teen Vogue. The child star said many people with the disease have to get back and face surgeries, but he only had to get a few mouth surgeries when he was younger. The disease has let him live a relatively normal life, and the Stranger Things writers were even able to write it into the script. In the show's sixth episode, "The Monster," bullies chase Mike and Dustin to a quarry cliff, where one bully teases Dustin about his "baby teeth."
When asked about the disease, Matarazzo has said that fans have reached out to him to tell him they have the disease, and they're inspired by his ability to be on television and embrace it.
"A lot of people were shying away from it, and they were messaging me saying, 'You made me feel better about myself because you can show that you have this condition on TV.'"
"I feel like I'm kind of raising awareness for it," Matarazzo added. Clearly, he's doing a great job. I hadn't heard about creidocranial dysplasia until he started talking about it, and I definitely didn't do about the hardships associated with it. It's great that at such a young age, Matarazzo is already using his platform for good. Way to go, kid!