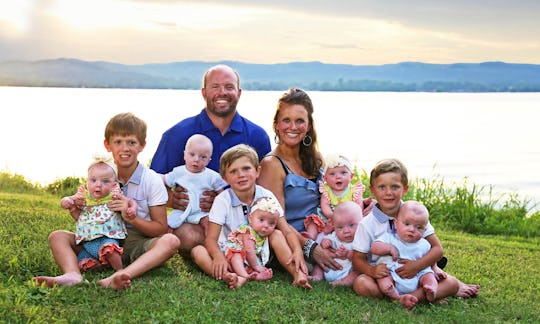 Here's What Courtney Waldrop From 'Sweet Home Sextuplets' Does For A Living
Sweet Home Sextuplets premiered last month on TLC, telling the story of the Waldrop family and how their brood grew from three to nine in just one pregnancy. Given how expensive kids can be, early fans of the show may be wondering: what is Courtney Waldrop's job? The mom to one set of sextuplets, one set of twins, and another boy has some work experience very relevant to managing a house full of kids. Before giving birth to the sextuplets last December — three girls named Rivers, Rawlings, and Rayne, and three boys named Layke, Blu, and Tag — Courtney worked as a first grade teacher at Albertville Elementary School in the couple's hometown.
As of right now, it doesn't look like Courtney has returned to work and it's unclear when or if she will. Dad Eric co-owns a landscaping business called Robinson and Waldrop Landscape Group with a friend from high school, but luckily, the couple has a lot of community help to see them through this massive family expansion. In a clip from the show, viewers learn that Courtney has volunteers scheduled 24 hours a day to lend care-taking support just days after bringing the babies home from the hospital. Since they were delivered prematurely at 30 weeks (standard for a large group of multiples like this) the family obviously had a lengthy hospital stay ahead of them. Rivers and Rawlings were discharged with a clean bill of health after 53 days, while the boys needed 72 days in the hospital before being cleared to come home.
But in the end, the whole family made it home by their goal date: what would have been Courtney's 40-week due date had she been carrying just one baby. Once settled in, the babies shared their parents' attention with older brothers Wells and Bridge, 6-year-old twins, and 9-year-old Saylor. Courtney and Eric spent their first night home sleeping on couches in their living room with all six babies — because where else are you going to put six bassinets? But the family has plenty of financial support pouring in from the community, too, in addition to care-taking help.
For example, the couple's church stepped up to organize a gender reveal 5k fundraiser run to help cover the overwhelming costs facing the family in the summer of 2017. Just before the run started, according to People, six color smoke bombs went off revealing that the Waldrops were expecting three girls and three boys.
After the gender reveal, Courtney was able to spend the first week of school with her class before passing off the baton. "I was able to get my room ready, meet the kids and get things ready for the teacher who was taking over," Courtney told The Gadsen Times.
"We've been very, very, blessed with a lot of love and support," she added in an interview with local CBS affiliate WHNT, "We wouldn't be here right now without all the love, support, and prayers." Now I'm just looking forward to seeing what comes next for the big family.