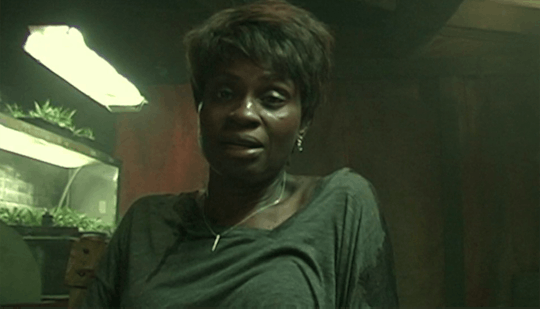 FX
What Is 'Crack'd' On 'AHS: Roanoke'? It's Another Show-Within-A-Show
After "Chapter 9" saw the apparent conclusion of "Return to Roanoke" — the second "show-within-a-show" on this season of American Horror Story — many viewers were left wondering what form the finale would take. Would fans finally move beyond "found footage" and reality TV shows, into the "real" world of the series? Not quite. As it turned out, "Chapter 10" was more of the same, with much of the episode framed by Lee's story as told on a new show called "Crack'd." But what is "Crack'd" on American Horror Story: Roanoke?
The first third of the season finale was presented as the installment of yet another documentary-style TV series — this time, one that's easily recognizable to many true crime aficionados. For the first half of the season, viewers had "My Roanoke Nightmare," retelling the events of the Miller family's initial ordeal in a series of dramatic re-enactments. Then, fans got "Return to Roanoke: Three Days in Hell" for the next three episodes, a found-footage style show. "Crack'd" was an examination of the "case" of Lee Harris, the sole survivor of Roanoke and a woman who was tried multiple times for multiple murders.
From the narrated style of "Crack'd" to the way they framed the interviews with jurors, lawyers, and detectives related to Lee's case, it was clear that the "Crack'd" was mimicking a long-running, well-known real true crime reality TV series — Oxygen Network's Snapped. Some viewers on Twitter were quick to pick up the comparison.
"Crack'd" was a clever way of filling viewers in on what had happened to Lee in between the events of her walking away from "Return to Roanoke" as the sole survivor and the events of the present day.
The true-crime reality show depicted how Lee, in the aftermath of her rescue from Roanoke, was put on trial for the murder of the Polks and Monet. With the help of an admittedly crafty lawyer, Lee was acquitted of the charges based on a diminished capacity defense — according to the evidence her lawyer presented, Lee had been under the influence of the Polks' hallucinogenic "magic pot" and had also become unhinged as a result of her torture at the Polks' hands.
"Crack'd" also revealed that Lee was later put on trial for her first murder, the only one that actually couldn't be explained away by extenuating circumstances — her admitted murder of Mason. By casting doubt on Flora's testimony and the veracity of the confession, Lee's lawyer got Lee off on that charge as well, despite the videotaped evidence of Lee confessing to Jether and Flora's eyewitness account of the killing.
Despite the vague silliness of how transparent the copying of Snapped was, it was a smart way to present Lee's murder trials and the immediate aftermath of the Roanoke nightmare(s).