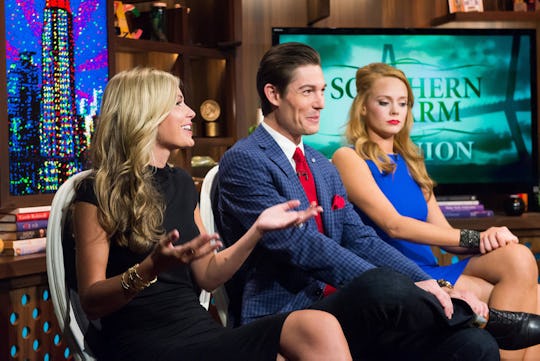 Charles Sykes/Bravo
What Is Craig Conover's Job On 'Southern Charm'? The Former Playboy Has A Bright Future
Even though Craig Conover gets a bum rap on Southern Charm, it's hard to deny that he isn't charming. Sure, maybe he was "allergic to work" (to steal Shep Rose's phrase) in past seasons, but Season 3 is an entirely new Craig. Since the beginning of the show, Craig's career (or lack-there-of) has been one of his main storylines, but now Season 3 is breaking away from that mold with the new Craig. He's motivated, refreshed, and ready to put some serious blood, sweat, and tears into his new business venture. So, what is Craig Conover's job on Southern Charm? The one-time playboy has gotten his act together and is ready to make bank.
Let's rewind the clock a bit and go through just what we know about Craig's career. It all started, according to his LinkedIn — yes, Bravo personalities have LinkedIn accounts, too — as a legal intern at Berkeley County Public Defender's Office during the summer of 2012. During that time, Craig was going to Charleston School of Law (2011-2014). He had a few stints at a law firm for a few years, as well, but unfortunately, as we saw on the show, Craig didn't have enough credit to take the bar exam to seal the lawyer deal, leading him to move home and work on his ~future~.
After a little time at home, Craig returned to Charleston and moved in with his girlfriend, Naomie. Like I said, this is a new Craig, you guys. He and Naomie have a pretty good deal — they're living in one of Naomie's family's houses (probably rent free) and it's basically the perfect party house. And while I'm sure they'll throw a shindig or two, Craig has stepped up to the plate on the career front and made a very big purchase into a very familiar company recently.
On the previous episode of Southern Charm, we saw Craig buy into Gentry Hospitality, a hospitality group in Charleston. JD — former Charm-er, and "friend of the show" — facilitated the deal, outlining that Craig's buy-in (plus some project manager work for sweat equity) is a big responsibility, but it seems that Craig is ready to take it on (plus, he just signed a big check). But is Craig still working with JD? When Romper reached out to Craig for an update on if he was still working with JD and Gentry Hospitality, he said, "Of course, Gentry [Hospitality] is going great -- and [JD and I] are business partners so there's not much escaping."
Here's to hoping the new gig and partnership continues to flourish. Sounds like he might have finally found his calling.