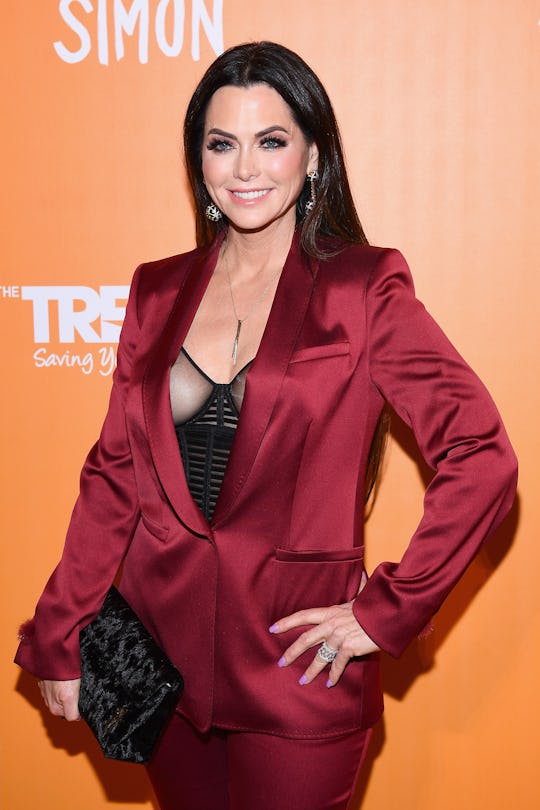 Dave Kotinsky/Getty Images Entertainment/Getty Images
Here's What D'Andra Simmons Does For A Living
D'Andra Simmons is poised to have a pretty transformational season this year on Real Housewives of Dallas, finally breaking free from her mother's financial control over her life and striking out on her own. Fans know she runs her own business, but they may be wondering: exactly what is D'Andra Simmons job? According to her website, she's the CEO of her mother's nutritional supplement and skincare line Ultimate Living International and her own beauty brand, Hard Night Good Morning Skin Care.
Of course, RHOD fans have seen that D'Andra's mom Dee Simmons, who founded the company, had some trouble passing off the baton to her daughter. Early on in the series, D'Andra reveals that she left a promising career at the Department of Energy in Washington, DC to return home and prepare to take over her mom's company. That was in 2004, and Dee Simmons is still sitting at "the big desk," as they call it. Viewers watched the mother-daughter team struggle over ownership of the company, and now it seems like D'Andra is finally ready to sacrifice her financial safety net and strike out on her own. In Season 3, she prepares to split her line Hard Night Good Morning from her mother's brand and run it all by herself.
The problem? She'll have to use her trust fund to maintain the company for a little while and she won't be taking home a salary for the foreseeable future. As the primary breadwinner in her home (husband Jeremy is a retired US Air Force Sergeant and a photojournalist), that means the family will have to scale back their lavish lifestyle. D'Andra grapples with a bunch of insecurity around no longer being ultra-wealthy (just regular wealthy) as part of her storyline this season.
In addition to being the CEO of a company, D'Andra fulfills the philanthropic duties of a Dallas society dynasty, too. According to her personal website, she's currently "a UNICEF Great Plains Regional Board Member, Friends of Simmons Cancer Center Steering Committee Member, and The Salvation Army Women's Auxiliary Fashion Show and Luncheon Chair."
Even though it seems like D'Andra's mom has her under her thumb, D'Andra is actually responsible for a lot of the company's success. She's the one who first suggested her mom pivot to skincare after striking gold in the nutritional supplement space and D'Andra seems to know a lot more about social media marketing. Dee first started the company after a global search for alternative therapies following a breast cancer diagnosis in the early-'90s.
Although she underwent a radical mastectomy, Dee preferred to go the holistic route instead of doing chemotherapy as a followup treatment, and combined everything she learned about nutritional wellness into a supplements line. D'Andra, who got a Bachelor's Degree in International Affairs at Sweet Briar College, went on to pursue a Master's Degree and PhD program in naturopathic medicine, according to a 2007 D Magazine profile of the mother-daughter team, but it appears as though she stopped two years into the program. Needless to say, D'Andra clearly has the building blocks to set up a successful solo venture, but RHOD fans will have to stay tuned to see if she ever gets it off the ground.