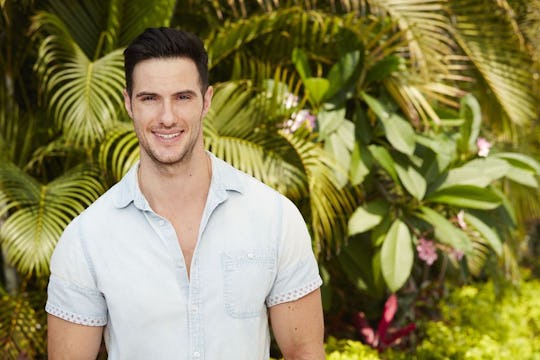 Craig Sjodin/ABC
What Is Daniel Up To After 'Bachelor In Paradise'? He's Keeping It Real
Daniel Maguire has spent his time on Bachelor in Paradise being kind of Chad-lite: much less offensive, but still something of a meathead. He can step up when the moment calls for it to cheer up a sad cast mate like Ashley I. or share some genuine feelings with Sarah Herron, but then he'll ruin all that goodwill with a gross comment – such as fetishizing of Ashley's virginity and/or referring to himself as "papa bear" or an eagle or a wolf or whatever weird pseudo-powerful metaphor he has chosen that day. Now that the show has finished filming, how has he chosen to fill his time? Did he end up finding love? What is Daniel up to after Bachelor in Paradise?
It seems Daniel's main mission post-paradise is to try and angle his way into being the next Bachelor. He's certain that he's the main for the job because he's "the most realistic, regular guy out there" and the crazy things he says are just what people want to hear. "People want real, people want entertaining, people want me," Daniel said. "So I think I'd make a great Bachelor and I think I'm a great catch as well!"
I guess it's...nice that he's so confident.
Job-wise Daniel has always been something of a cipher. While on The Bachelorette, his job was described merely as "Canadian," which was not something I was aware one could be employed to do. He has been described elsewhere as a model and personal trainer, and that lines up with the bio section on his Twitter. Traveling seems to be a passion of Daniel's (apparently he's visited every continent except Antarctica and is interested in purchasing a South American hostel), and something he can do a lot thanks to his modeling. When he isn't overseas posing for the camera or doing BiP promo, he's back in Canada visiting his hometown of Penticton so he can hang out with his dad, who was left a quadriplegic following an accident in 2008.
Still, Daniel's greatest joy in life appears to be Daniel himself. He's either posting glamour shots to Instagram or busy on Twitter counting down the days until he can watch himself on Bachelor in Paradise again. For someone who loves visiting exotic locales and not wearing shirts as much as Daniel seems to, a recurring gig on anything Bachelor-related seems like a match made in, well, paradise.
How indeed.