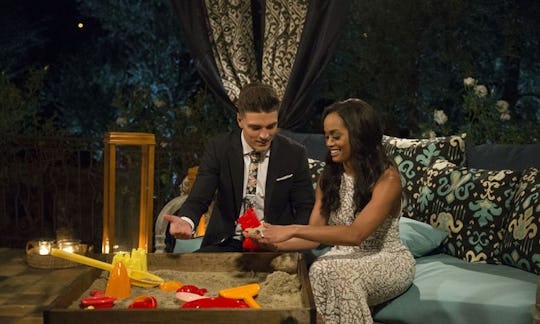 Paul Hebert/ABC
Rachel Is About To Meet Dean's Dad On 'The Bachelorette'
It's safe to say Dean is the fan favorite on this season of The Bachelorette. He's been capturing the hearts of fans all season with his charm and honesty, but people really took notice when he opened up to Rachel about his mother's death during their first one-on-one date. He's also been candid about the struggles he's had with his father, and if the previews are anything to go by, it all seems about to come to a head during a very tense hometown date, when Rachel will meet Dean's dad for the first time. To prepare, some context is necessary, so what is Dean's dad's job on The Bachelorette? From what Dean says, they have a strained relationship.
According to OKHereIsTheSituation, Dean's dad's name is Harold "Chip" Unglert, but it seems that he now goes by the name Paramroop S. Khahsa. Based on his Facebook, Dean's father is a monk, and according to what his LinkedIn profile says, he is a yoga teacher at Earth Oracle Yoga Studio in Carbondale, Colorado. His bio on the yoga studio's website reads:
Paramroop has lived in the valley for over 16 years with his family of 4 and late wife Debra. Paramroop is a master craftsmen of tile and stonework and ran Davinci Stone Works in Carbondale for 8 years. He helps organize morning Sadhana at the Studio. Currently a seva dar, he is in the process of becoming a teacher and offering his healing.
Dean voiced his concerns for Rachel seeing his hometown, referring to his father as "eccentric." When a fan tweeted at Dean to tell him his comment had offended her, he took to Instagram to clarify.
He opened up a little more about his dad in the caption, asking fans to be courteous about his father's faith:
I'm asking for a favor: when I said my father was eccentric, I was not referring to his Sikh faith or the turban he wears on his head. I'm not asking you to spare his feelings (or mine) but instead to be cognizant and accepting of the millions of people that belong to the Sikh community. Although he and I are not close, I respect my father's decision to follow his heart and pursue the life he has chosen. Let us not criticize him for his appearance or his beliefs because by doing so we are disparaging an entire faith and culture that includes millions of people. And I know we are all better than that.
The preview for the next episode gives only a look at what's to come when Dean brings Rachel to meet his dad. Luckily, Rachel has been nothing but understanding towards Dean's family situation, and hopefully that support will continue.