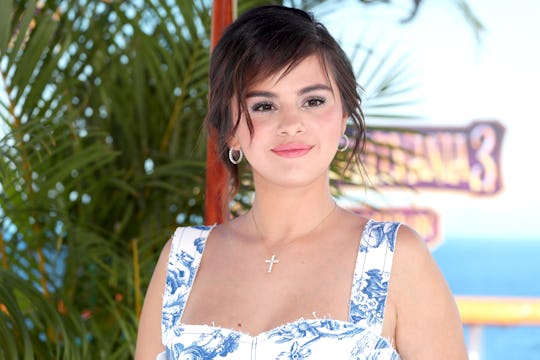 Christopher Polk/Getty Images Entertainment/Getty Images
All About Dialectical Behavior Therapy, The Treatment Selena Gomez Is Receiving
On Thursday, multiple outlets reported that Selena Gomez had been hospitalized twice in recent weeks due to complications following a kidney transplant she received last year. During her second hospitalization, the singer-actress reportedly suffered a panic attack, and subsequently sought inpatient treatment at an undisclosed mental health facility. Selena Gomez is receiving dialectical behavior therapy, Elle has reported, a treatment some fans may be unfamiliar with. So what is that, exactly?
The magazine described dialectical behavior therapy, or DBT, as "a talk therapy that focuses on helping patients strengthen their distress tolerance, regulate their emotions, be more mindful of themselves and others, and better navigate interpersonal conflict." This isn't the first time the singer has sought such treatment; in 2016, midway through her "Revival" concert tour, Gomez cancelled more than 30 shows to check into a psychiatric facility in Tennessee, according to Vogue interview from March 2017. "DBT has completely changed my life," she said at the time. That outlet describes the therapy as "a technique developed to treat borderline personality disorder that is now used more broadly, with its emphasis on improving communication, regulating emotions, and incorporating mindfulness practices." Both descriptions are a bit vague, but the term"mindfulness" sounds more spiritual than clinical, which begs the question, is DBT a legitimate medical treatment?
According to Psychology Today, DBT was developed by Marsha Linehan, Ph.D., in the 1980s to treat people with borderline personality disorder (or BPD), but it's also used to treat people experiencing depression, bulimia, binge-eating, bipolar disorder, post-traumatic-stress disorder, and substance abuse. It focuses on "balancing opposites," most notably acceptance and change. Patients typically attend individual therapy sessions as well as weekly two-hour "skills groups." Patients are also required to complete homework, including a daily diary in which they must chart "more than 40 emotions, urges, behaviors, and skills," according to WebMD.
In order to practice DBT, a therapist must be available 24 hours a day to take emergency therapy phone calls from a patient. They're also required to be trained and certified (for a fee) by the Linehan Board of Certification, a name you may recognize. The practice has received its fair share of criticism; University of Tennessee Professor Emeritus David M. Allen, MD noted that DBT is rooted in Linehan's theory (which she doesn't back up with scientific findings) that BPD is caused, in part, by patients' exposure to an "invalidating environment," yet DBT treatment does nothing to address that factor.
DBT is often hailed as the most empirically validated treatment for BPD, yet Allen pointed out that DBT is only "empirically validated" for the treatment of one BPD symptom, parasuicidality (self-harming behavior that's unlikely to actually result in death). Furthermore, the majority of DBT studies were conducted by Linehan herself, and as one review of such studies argued, had "significantly less stringent research methodology" than studies of other forms of therapy, and "do not fulfill criteria for empirically supported treatments."
DBT is an amalgam of cognitive behavioral therapy (the gold standard of psychotherapy) and Zen Buddhism, which explains the "mindfulness" angle. The authors of the paper Empirical Reality of Dialectical Behavioral Therapy in Borderline note that independent reviews show that when compared to other forms of therapy, DBT "shows no difference in the proportion of patients repeating self-harm or other outcomes such as suicidal ideation and depression," and that "follow-up of Linehan's initial studies shows high dropout rate and loss of efficacy over time." BPD is the only condition for which DBT treatment has been significantly evaluated — and not very favorably, at that — but Gomez, according to a February interview with Harper's Bazaar, doesn't have BPD; she suffers from depression and anxiety.
All that being said, the human mind is incredibly complicated, and there's no one perfect treatment for all patients, so if Gomez believes that DBT is helpful, that's between her and her medical team. Those considering DBT for themselves should discuss treatment options with a qualified, licensed mental health provider before jumping on the latest fad.
If you or someone you know is experiencing suicidal thoughts, call the National Suicide Prevention Hotline at 1-800-273-8255 or text HOME to the Crisis Text Line at 741741. You can also reach out to the Trans Lifeline at 877-565-8860 or the Trevor Lifeline at 1-866-488-7386, or to your local suicide crisis center.