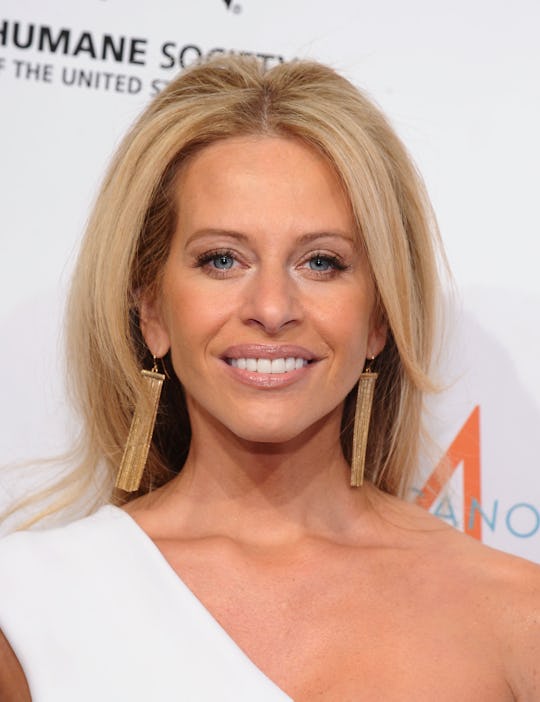 Ilya S. Savenok/Getty Images Entertainment/Getty Images
What Is Dina Manzo Doing Now? The Former Housewife Doesn't Even Live In New Jersey Anymore
Every once in awhile, a lost Housewife is welcomed back into the franchise's fold after some time away from reality TV cameras, hyper-confrontational and grueling 12-hour reunion show shoots, and more time than any one person could reasonably spend getting their hair and makeup done without suffering a nervous breakdown. Last season's prodigal New Jersey Housewife was Dina Manzo, who returned, ultra-zenned out (#NamasteBitches), for Season 6 after only participating in the show's first two seasons. But alas, she won't be back for Season 7. So what is Dina Manzo doing now?
Well, one reason she won't be returning to the show is because she's no longer even a resident of New Jersey. After finalizing her drawn-out divorce from Tommy Manzo this past February (there's a light at the end of the tunnel, Bethenny!), Dina packed up and headed west. She now lives in Malibu, where she's working on her recently launched skincare line, Glow by Dina. Some of the proceeds from her line go to her pediatric cancer charity, Project Ladybug, which she's still heavily involved with. In fact, it's how she met her new boyfriend David Cantin (who just so happens to be about a decade her junior).
She and Teresa Giudice are still besties, and because of their friendship, Bravo did ask Dina to return for Season 7 of RHONJ, presumably to track their reunion and the reestablishment of their friendship after Teresa was released from prison late last year. But Dina acknowledged that it would be sort of silly to film when she was living in California, even though she does keep an apartment in Manhattan and returns to the east coast about once a month.
"I thought about it for a minute, and I thought 'How am I supposed to do this? I don't live there,'" she confessed in an interview. "I have an apartment here in Manhattan but I don't live in New Jersey, so I don't see how that could work."
Ultimately, she said, "it didn't make sense" for her to return to the show, though if she's back in New York once a month, then it seems plausible that we might get a peek and her and Teresa grabbing lunch at some point. Especially since the trailer for Season 7 focuses, in part, on Teresa's friends rallying around her as Joe prepares to serve his three-year prison sentence. Either way, Dina Manzo seems to be blissed out on that California lifestyle, which seems much more suited to her spiritual sensibilities than New Jersey ever was.