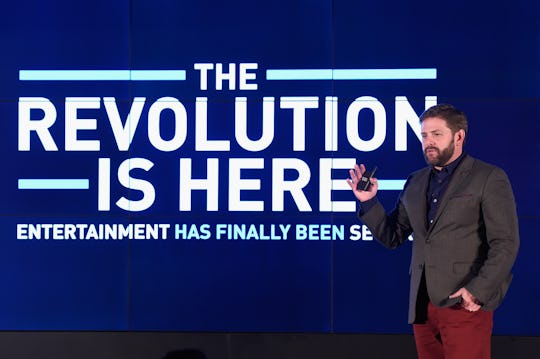 Dave Kotinsky/Getty Images Entertainment/Getty Images
What Is DirecTV Now? It Could Change The World Of Television
Streaming content has undoubtedly become a way of life. And after months of buzz surrounding AT&T's new streaming service, the company finally unveiled its new product in a — you guessed it — livestream announcement on Monday. So, what is DirecTV Now? Early reviews claim that it could shake up a lot of things in the streaming-television world.
If you consider yourself a proud cord-cutter, or have contemplated becoming one – you know, someone who has parted ways with cable subscriptions – then this new announcement may interest you. As The Washington Post reported, the Leichtman Research Group found that the average cable household pays $103 a month for cable TV service, so it's no wonder people have been looking for ways to cut down – or cut cords.
Beginning Nov. 30, AT&T will release DirecTV Now, a video streaming service with varying package options for channels and streaming capabilities. As listed on AT&T's website, DirecTV Now has four different package options starting at $35 a month for 60 channels, and $70 a month for 120 channels. The site states that DirecTV Now will go live and will be available through the following products starting Nov. 30:
Amazon Fire TV and Fire TV Stick
Android mobile devices and tablets
iPhone, iPad and Apple TV
Chromecast (Android at launch; iOS in 2017)
Google Cast-enabled LeEco ecotvs and VIZIO SmartCast Displays
Internet Explorer, Chrome and Safari web browsers
With DirecTV Now, customers will be able to stream channels in accordance with the respective packages, using their home broadband or mobile wireless service, USA Today reported. And as a temporary promotional deal, AT&T is offering customers to sign up for their "Go Big" package, which includes 100 channels, for $35 a month as opposed to its regular price of $60. And for you HBO fans out there (is anyone else anxiously waiting for season two of Insecure already?), customers can add premium channels like HBO or Cinemax for $5 a month.
John Stankey, chief executive of AT&T Entertainment Group, told The Washington Post that DirecTV Now aims to find customers who are "cord-shavers."
"This product is tuned to address portions of that base, to find the folks that maybe couldn't pass credit checks, to find the cord shavers and the cord-nevers," Stankey said. "To establish a relationship with those customers on premium content, and then grow that relationship … over time."
Whether you decide to join AT&T's "revolution," as they refer to it, for DirecTV Now or not, it's always worth exploring your options when it comes to TV and streaming – I mean seriously, your favorite must-see-before-catching-spoilers-on-social-media show depends on it.