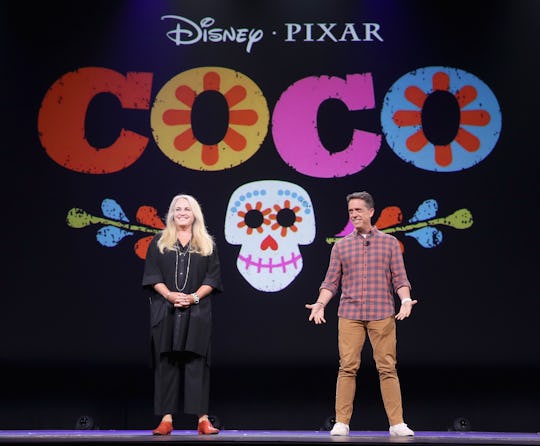 Jesse Grant/Getty Images Entertainment/Getty Images
What Is Disney-Pixar's 'Coco' About? It Will Take Viewers To The Land Of The Dead
For diehard Disney-Pixar fans, the months following Finding Dory's release have been difficult. They're starting to tire of watching Up on loop, desperately craving a new fix of family-friendly fun. Luckily, Walt Disney Studios has just released some information on the plot of Pixar's upcoming Coco, slated to premiere in 2017, and it sounds awesome, promising a celebration of Dia de los Muertos (aka Mexico's Day of the Dead), along with plenty of music, an exciting cast of all-Latino voice actors, and a funny skeleton, because why not?
Though famously secretive, the Pixar animation team producing the Disney released film recently allowed a small group of journalists to preview some footage of Coco, and revealed that the film will center on a 12-year-old boy named Miguel (to be voiced by a young newcomer named Anthony Gonzalez, who was originally hired solely to provide a scratch track for the creative team, but was then just so good they had to keep him on). According to Entertainment Weekly, Miguel lives in a Mexican village and dreams of becoming a musician. The only problem? His family has sworn off music ever since Miguel's great-great-grandfather abandoned his wife to pursue his own musical dreams.
While trying to emulate his musical hero, the late Ernesto de la Cruz (voiced by Benjamin Bratt), Miguel accidentally enters the Land of the Dead. There, he teams up with the aforementioned funny skeleton (voiced by Mozart in the Jungle's Gael Garcia Bernal), meets his ancestors, and tries to track down his idol.
As Vanity Fair points out, Coco will be premiering at an interesting, somewhat scary cultural moment, after a presidential campaign that started with the president-elect calling Mexicans rapists and criminals. Pixar, in the past, has made audiences empathize with robots, human emotions, and more. Hopefully Coco can bring out a new understanding in even the most intense proponents of the "build the wall" mentality. As Coco writer and co-director Adrian Molina told Vanity Fair,
[Miguel's] family is my family. The reason I love them is the reason I love my family, and I hope it's the reason the world will love a family like mine. I think that nothing bad can come from opening your heart to a story. I think only good can come from putting yourself in someone else's shoes.
Coco director Lee Unkrich, who previously directed Toy Story 3, called the new film "a love letter to Mexico." And since Disney drew backlash for reportedly trying to trademark the phrase "Dia de los Muertos" during Coco's development, with many in the Latino community pointing out that it looked a whole lot like cultural appropriation for commercial profit, the Coco team has been working hard to portray Mexican culture accurately. (Disney has a conflicted history on this particular front, but to its credit, it's making generous strides.)
November 2017 is too far away! In the meantime, we'll just have to content ourselves with Cars 3. (Not such a bad thing, right?)