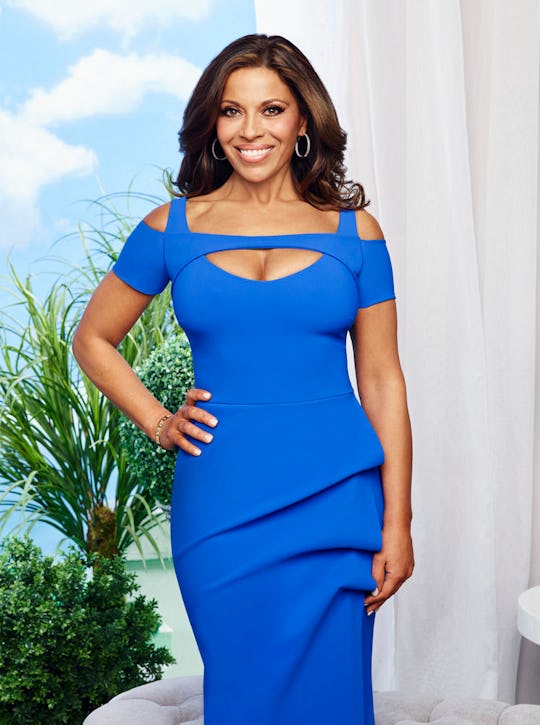 Tommy Garcia/Bravo
What Is Dolores' Job On 'Real Housewives Of New Jersey'? She's Done It All
Fans of The Real Housewives of New Jersey are still learning about newcomer Dolores Catania. She's a close pal of Jaqueline and Teresa, but for as well as she fits in with the cast, she's still a relative stranger to viewers. Dolores has been offscreen and in the background on RHONJ for years, but it's time to get to know her a little bit better. She hasn't delved into it in depth on the show, but what is Dolores' job?
Dolores is something of a jack of all trades, or a "quintessential modern day Renaissance woman," as her bio for Bravo describes her before it goes on to list her impressive and unusual career journey. Dolores has been, at various times, a corrections officer, surgical technician, realtor, and owner of fitness centers. Owning a string of Powerhouse gyms seems to satisfy Dolores for now, but all that variety in her resume can't hurt when it comes to dealing with the drama on RHONJ. As a former corrections officer and surgical technician, she should be able to break up fights and patch everyone up in the aftermath. However, Dolores intends to use her time on RHONJ to reinvent herself – something she clearly has a talent for.
Dolores owns and operates Powerhouse Family Fitness Center with her ex-husband Frank and a friend listed on her Instagram as "Mr. Mazali." When she wasn't working Dolores was looking after her two kids, both of whom are grown now, which was part of what prompted her to join RHONJ in the first place. In a blog post for Bravo, she describes her time on the show as, "a chapter where I can FINALLY begin to focus on ME."
Dolores hasn't discussed her past careers on the show outside of a few casual references, but she made it clear that she did struggle a lot as she tried to find her path. There was a telling moment in "A Life to Envy" when Dolores sat down with her daughter Gabby to discuss the future and explained that her lack of education was (in her opinion) what led to a lot of the struggles in her own life. It's one of the reasons why she takes such pride in Gabby's decision to study veterinary medicine.
"I'm glad you're doing everything I should have done," Dolores told her daughter. "I didn't have an education, I put everything into a family and a marriage." Dolores was never able to attend college because her father didn't give her the opportunity or support and she didn't know how to do it entirely on her own. However, Dolores has clearly been able to find a measure of success despite her obstacles and she's inspired her children to push even farther than she has.
Dolores might have had a wide range of careers, but it looks like the one that suits her best might be mom.