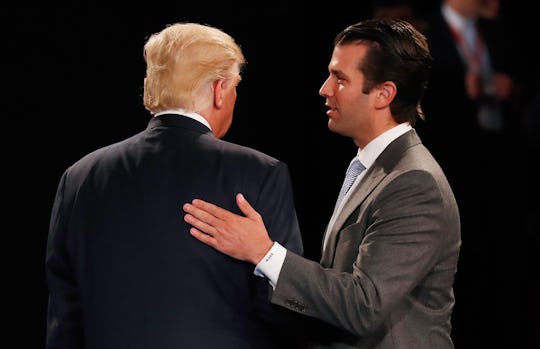 Pool/Getty Images News/Getty Images
What Is Donald Trump Jr's Net Worth? He Says He & His Siblings Aren't "Trust-Fund Kids"
Let's face it: of President-elect Donald Trump's five children, Ivanka Trump gets most of the attention. She runs her own successful fashion business and has been praised for her poise and intelligence. But Trump's eldest son, Donald Trump Jr., plays a key role in his father's businesses, and all of the president-elect's children may play a role in politics once Trump takes office. So you may be wondering — what is Trump Jr.'s net worth?
Trump Jr. is the executive vice president of The Trump Organization, and has been working for the company since 2001. His net worth is an estimated $150 million, according to Celebrity Net Worth.
"We were never really trust-fund kids," Trump Jr. said in an interview with The Atlantic. "We work."
Trump Jr. is in charge of managing the organization's property portfolio, and has always been passionate about being involved in every aspect of the construction of his dad's buildings, which he discussed with The Atlantic.
My father exposed us to his business at a very young age. The time that we spent with him...was 'Let's go work on this jobsite.' And when you're a little kid around all of this heavy machinery, equipment, and huge buildings, it was pretty cool...If we weren't into it he wouldn't have us doing it. We learned from him early on that anything you're not passionate about you're not going to do well.
Along with his siblings, Trump Jr. has expanded his father's businesses. He isn't just riding his dad's coattails and apparently has a great business sense, according to his father.
"We have different styles — maybe his is better than mine, frankly," the president-elect told The Atlantic. "People like him a lot, and people trust him."
Now that President-elect Trump will be running the country come Jan. 20, he must step away from the business that made him a celebrity. The responsibility of running the Trump Organization will be in the hands of Trump Jr., Ivanka, and Eric Trump.
A Trump Organization spokesperson told The Daily Beast that the transfer of management to Trump's three eldest children "is a top priority at the Organization and the structure that is ultimately selected will comply with all applicable rules and regulations."
Some have pointed out that Trump's children running his business is a conflict of interest, since it's required the president does not profit from his government responsibilities.
And Trump Jr. has said that his dad's presidency can help the Trump brand grow globally. In an interview with Forbes in May when his father was out on the campaign trail, Trump's eldest son discussed what it's like being in the political arena on his dad's behalf.
So frankly it's been exciting to be a part of both right now — continuing to work on all of these jobs, and jumping in to be political surrogates when we need to. Ultimately real estate will continue to be our full time job. But obviously people are seeing [my father] around the world and as we look to expand the brand elsewhere I think [the campaign] will certainly help.
Trump's test will be to see where he can take the country over the next four years. But for his son, building the Trump businesses (and yes, probably his net worth along with them) is his test.